Generation Ipsen – For Positive Change
At Ipsen, our commitment to responsibility is lived through an identity that unites our employees around a common vision. We call it Generation Ipsen – For Positive Change.
Through Generation Ipsen, we are fostering a culture of integrity and responsibility that touches every part of our business. A culture where we go beyond commitments, and where each of us understands the individual role we must play in shaping positive change. We define specific goals and proactively set out how we will deliver on these – inspiring and empowering action that will ensure we create a better, healthier world for future generations.
Generation Ipsen focuses on driving positive action across four pillars:
Environment
Patients
People
Governance
We are committed to transparency at every step, and continually challenge ourselves to go beyond what is expected – doing what is right, not what is easy. Across all our initiatives, care is taken to align with the United Nations' internationally recognized Sustainable Development Goals, and we remain firmly supportive of these major priorities.
Ipsen is focused on always working in an ethical manner, with the highest possible standards of business integrity. This is outlined within our Code of Conduct and, in December 2021, we also received ISO 37001 certification for our anti-corruption management systems.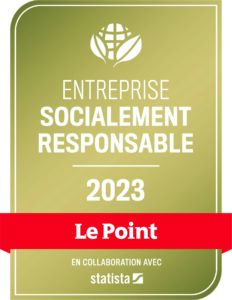 In 2022, Ipsen's industry-leading efforts around CSR have received exceptional recognition from Le Point. Ipsen has been awarded #1 for the pharmaceuticals sector and #9 out of all 250 companies listed. To put this in context, just two years ago we were ranked #140 of the 250 and #10 in pharmaceuticals.
Environment
Caring for the planet
Climate change is the foremost challenge of our generation. At Ipsen, we are committed to playing our part to minimize harm and preserve our natural world – shaping a more sustainable future. Our action on Environment is focused on three areas:
Leading action on climate

Preserving natural resources

Protecting healthy ecosystems
Key Facts
At the end of 2021, Ipsen joined the Business Ambition for 1.5°C initiative and we are committed to reducing our greenhouse gas emissions based on a scientific approach:

halving the absolute GHG emissions of the Group's infrastructure and vehicle fleet (Scope 1 and Scope 2) by 2030
working with partners upstream and downstream in the value chain to reduce Scope 3 emissions (targets based on scientific data) by 2030.

Our Climate Targets were approved in September 2022 by (SBTi). This approval confirms that our greenhouse gas (GHG) emission reduction target is in line with a 1.5°C-aligned trajectory, the most ambitious goal of the Paris Agreement.
95% of our global electricity comes from renewable sources
In 2021, our volatile organic compound emissions were reduced by 15% compared to a 2019 baseline
30% of our fleet will be electric by 2025 through the Fleet For Future project
Patients
Patients at the heart of everything we do
Patients are the heart of everything we do. Our focus on the fields of oncology, rare disease and neuroscience enables us to develop an ever-greater understanding of patients' needs and experiences. Our objective is to take patient-centricity to the next level by impacting medical care and patient outcomes in our therapeutic areas, notably by building a deep understanding of the patient journey. Patient insights are essential to challenge the status quo, while collaboration with healthcare systems can bring about advancements for patients around the world.
Learn more about Ipsen's approach to working with patients and advocacy organizations
Our action to better support Patients is focused on three areas:
Delivering a truly patient-centred experience

Enabling access to good health

Driving innovation
Key Facts
Since 1983 under the aegis of the Fondation de France, Fondation Ipsen has been dedicated to increasing scientific knowledge and patient research. It is focused on helping improve the lives of patients with rare diseases. In 2021, through its relationships with patient organizations, its publishing enterprise, and international scientific collaborators, the Fondation interacted directly with more than 22 million people in 100 countries. The Fondation's latest strategic focus, "Rare But Not Alone," was launched in 2020. It reoriented efforts toward rare disease awareness and early detection, with the goal of improving detection and diagnosis.

Learn more about Fondation Ipsen

Ipsen partners with Access Accelerated, a not-for-profit that works in communities that lack sufficient access to healthcare to address non-communicable diseases.
People
Passionate people making a real impact, every day.
As well as patients, we care deeply for our employees, and our communities. We believe all employees should be treated fairly, and we work diligently to optimize the health, safety and well-being of our teams. We also seek to make a positive impact on our communities through the work we do.
Our action to support our people and our communities is focused on three areas:
Caring for our teams and our communities
Nurturing and rewarding talent
Embracing diversity and inclusion
Key Facts
We are targeting a balanced-gender ratio for our Global Leadership Team by 2025 and we are very proud to report that ratio has already reached 45%
To date, Ipsen has been recognized as an employer of choice in 21 countries
Our 2021 Ipsen Community Day saw more than 1,800 participants taking part in over 125 activities to support the work of 100+ associations.
Ipsen in Motion is our internal program promoting the health of all employees while raising money for worthwhile causes. In 2021, 1,150 participants – representing more than 20% of our workforce – helped to raise €50,000.
We recently outperformed our Environmental, Social and Governance (ESG) criteria in the revolving credit facility, leading to a donation of €70,000 to International Health Partners, a charity supporting people in some of the world's most challenging places to get the medicines they need.
In response to the Ukraine situation, Ipsen convened a crisis committee with two key objectives: ensuring the safety of our employees and maintaining access to treatments for patients. We have also responded to requests for humanitarian aid by donating medicines as well as a humanitarian contribution of €1.5 million divided between the Tulipe association and the International Red Cross in France.
Governance
Acting with integrity and transparency.
Our responsibility is based on a strong ethical culture. At all levels of the organization and in all our operations we are committed to acting with integrity and transparency. Our governance consists of the following commitments:
Doing what is right. Not what is easy. 
Guided by our Strategy or Focus, Together for Patients & Society. 
Success delivered through responsible management. 
Key Facts
| | |
| --- | --- |
| | In every interaction, Ipsen complies with the highest ethics and compliance standards. On top of our own Ipsen Code of Conduct, we also follow the Codes of the International Federation of Pharmaceutical Manufacturers & Associations (IFPMA) and European Federation of Pharmaceutical Industries and Associations (EFPIA), as well as local Codes such as that of the UK Association of the British Pharmaceutical Industry (ABPI), a reference in the field. Ipsen is also highly committed to fighting against corruption, and received the ISO 37001 certification for anti-corruption management systems in December 2021, renewed in July 2022. Our standards of business integrity are also outlined in our Code of Conduct. |
Read more about some of our Governance initiatives
Taxes
The Group is committed to observing all applicable laws, rules and regulations in meeting its tax compliance and reporting responsibilities and paying its fair share of taxes in all jurisdictions where it operates.
The Group applies diligent professional care and judgment, including ensuring that all decisions are taken at an appropriate level and are supported by consistent processes and guidelines and thorough documentation. The tax function is localized in France, UK and the U.S. The VP Group Tax department reports to the EVP CFO and the Group tax professionals are committed to the highest compliance standards in tax laws and regulations.