Welcome!
Working with patients for patients
"Patients are at the heart of our science in oncology, neuroscience and rare diseases. Being in touch with what matters to patients and their families helps us understand their needs and bring meaningful improvements to their lives."
Steven Hildemann, MD, PhD, EVP, Chief Medical Officer, Head of Global Medical Affairs, Patient Safety and Patient Affairs
We are working with over 220 patient organizations around the world at a Global, Regional, and National level, and aiming to respond to unmet patient needs, helping to support them, and their caregivers, at different points throughout their experiences.  Ensuring open communication with patient organizations is a core part of this commitment. We listen to what is important for people living with medical conditions, their families, and their caregivers, and strive to take action where we are able.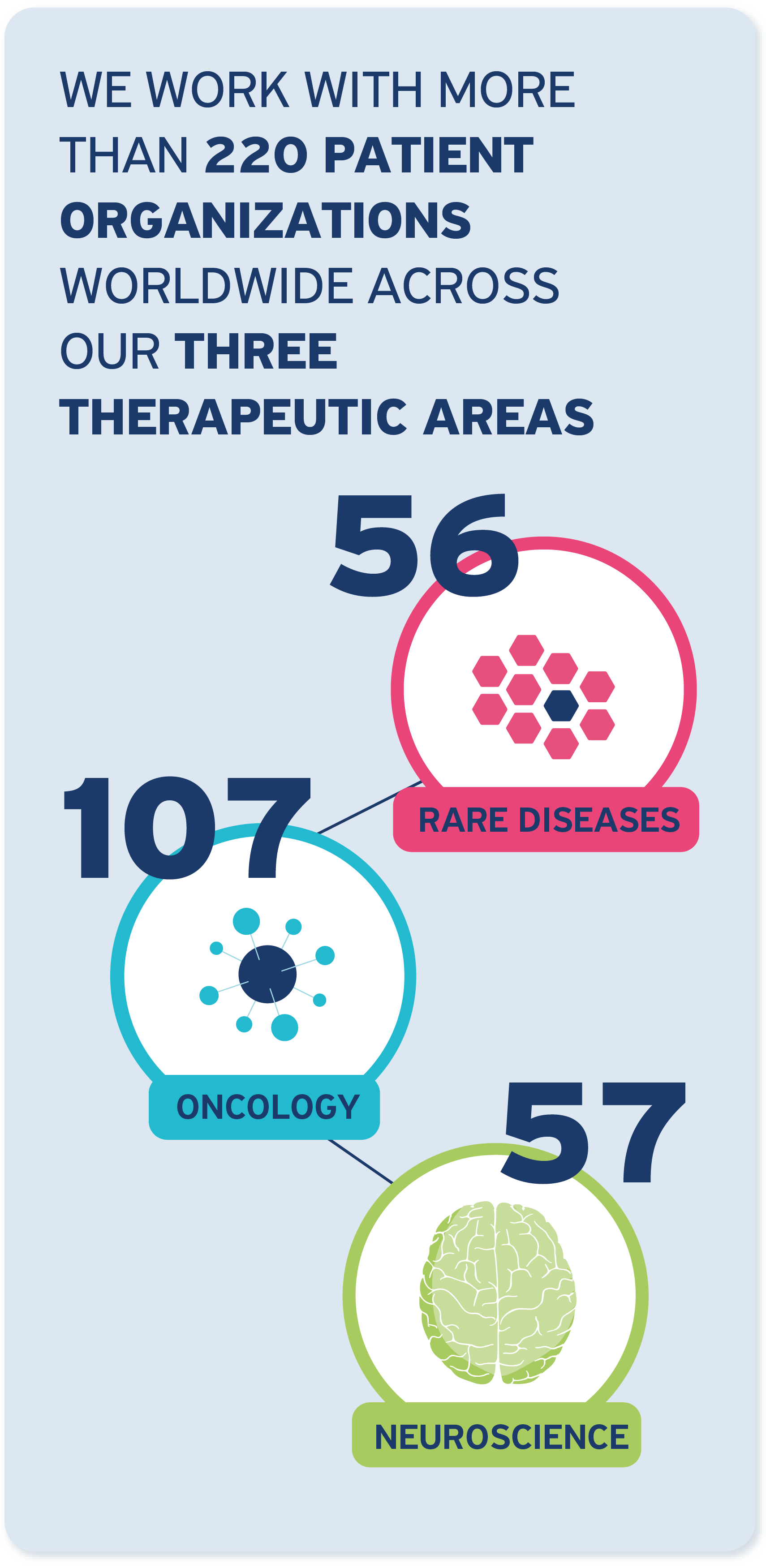 We have developed content for this patient community section of our website in response to insights shared by patient organizations. We would like to extend our gratitude to Convives con Espasticidad, Das Lebenshaus eV, European Liver Patients' Association (ELPA), FOPFriends*, patient experts and the Patient Information Forum (PIF) who collaborated with us on these updates.
*FOP = Fibrodysplasia Ossificans Progressiva
Continuous improvements
Ipsen has been taking part in the Patient View reports since 2015 and is included amongst the 48 pharma companies surveyed by 1,920 patient organizations in the 2020 Patient View annual report on the corporate reputation of pharma the summary of which can be found here.
We know there are patient organizations who are not included in the independent Patient View reports so, in 2021, we developed our own survey which was shared with 113 patient organizations (of which 103 responded) representing diverse medical conditions and countries around the world.
We saw an increase in our most recent Patient View ranking and positive feedback from our own survey, around relationships with patient organizations and patients, as well as how we engage patients in development. However, we believe continuous improvement is essential and our focus will be to create positive change in the areas where we are not meeting expectations or have areas to improve on from the survey results. These include demonstrating how we listen to the patient and caregiver communities, ensuring working with patients becomes standard practice, transparency, and our ability to truly understand individual patient experiences.
Our commitment to transparency
We are committed to conducting activities in a transparent and ethical manner in accordance with Global and Local regulations, Ipsen policies and the Ipsen Code of Conduct.
As part of this commitment, we share information related to payments and transfers of value to healthcare professionals and healthcare organizations, and information on clinical studies, scientific publications, and interest representation activities.
Finding more information: Transparency
You can read more about our commitment to transparency in the 'Our Responsibility' section here.
Finding more information: Clinical trials
Looking for information on an Ipsen clinical trial? Visit our Find a Clinical Trial page where you can search for one of our clinical trials sponsored by Ipsen by keyword.
COVID-19
COVID-19
Since the beginning of the COVID-19 pandemic, we have been working to ensure patients have access to our medicines and to foster our employees' safety and wellbeing.
If you have any questions about an Ipsen medicine or service, especially during the time of the COVID-19 pandemic, you can submit a question to Ipsen medical information here. As a pharmaceutical company we are not permitted to provide you with medical advice, so for any questions about treatment and care, a healthcare professional is the best person to speak to.