Contact us
| | |
| --- | --- |
| Craig Marks | Adrien Dupin de Saint-Cyr |
| Vice President, Investor Relations | Investor Relations Manager |
| +44 7584 349 193 | +33 6 64 26 17 49 |
Registration document
2020 Universal Registration Document
This registration document contains forward-looking statements about the Group's targets and forecasts, including the Annual Financial Report. The registration document provides a comprehensive information about our company, its activities, financial information, HR, and legal information.
Download
Stock information
Share price and stock information, benchmark, orders, transactions: find out Ipsen share-related data.
Ipsen shares
Shares in Ipsen S.A. have been traded on the Eurolist by Euronext™ market (Compartment A) since 7 December 2005, when the IPO (Initial Public Offering) price was €22.20 per share.
Ipsen shares joined the Deferred Settlement System on 28 March 2007 and joined the SBF120 index on 24 December 2007.
Ipsen has implemented a Sponsored Level I American Depositary Receipt (ADR) program and trades on the over-thecounter market in the United States under the symbol IPSEY.
Share information
2020 trading data
ISIN Code
FR0010259150
Average share price
€73.46
Euronext Code
IPN.PA
Highest price (17/09/2020)
€95.90
ADR Code
IPSEY
Lowest price (19/03/2020)
€34.20
SRD / PEA Eligibility
Yes/Yes
Stock market capitalization(1)
€5,691.01 M
Total Shares
83.8M
Average daily volume
153,847
Comparison between Ipsen's share price performance and the principal stock market indicators between 2 January 2020 and 31 December 2020 (Source: Onvista)
Price (Base 100 on 2 January 2020)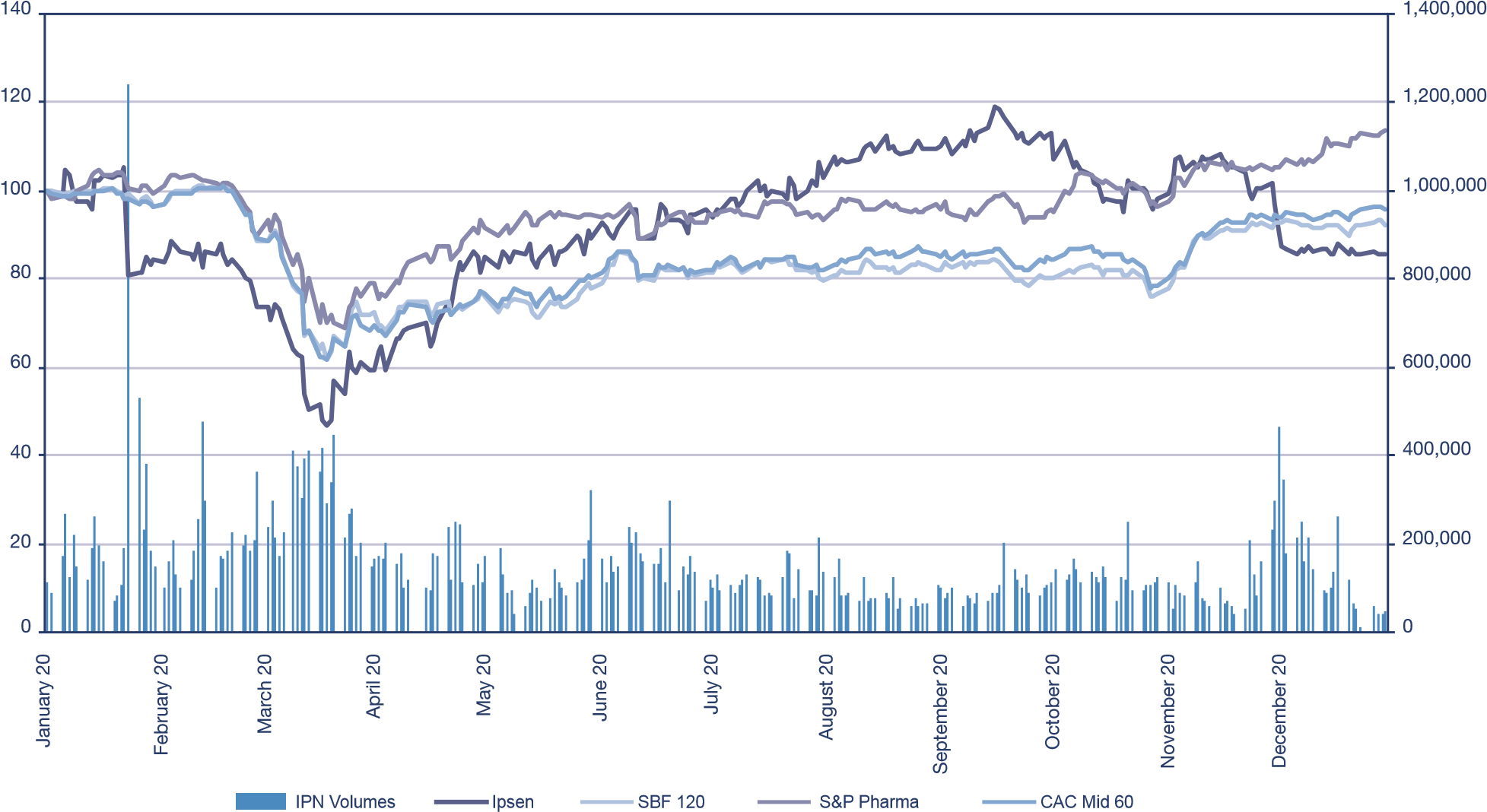 ADR program
Ipsen established a sponsored level I American Depository Receipt (ADR) program in the United States in June 2010 with Deutsche Bank trust company Americas (Deutsche Bank).
Ticker: IPSEY
Structure: Sponsored Level I ADR
Exchange: OTC
Ratio (ORD:ADR): 1:4
ADR ISIN: US4626291060
ORD ISIN: FR0010259150
CONTACT DETAILS FOR ADR HOLDERS:
Deutsche Bank Shareholder Services
AST
Operations Center
6201 15th Avenue
Brooklyn, NY 11219
USA
Email: DB@astfinancial.com
Toll-free number: +1 (866) 706-0509
Direct Dial: +1 (718) 921-8137
The Company's ADR program is sponsored by Deutsche Bank. As the depository bank Deutsche Bank performs the following roles for ADR holders:
Records and maintains the register of ADR holders
Is the stock transfer agent
Distributes dividends in U.S. dollars (if applicable)
Facilitates the proxy voting process and exercises the voting rights on behalf of ADR holders (if applicable)
Issues and cancels Ipsen ADSs (American Depository Shares)
Can distribute company circulars and Annual General Meeting documentation (if applicable)
For those holders who are not registered because their shares are held through a 'Street name' (nominee account), your nominee will receive company documents from time to time from Deutsche Bank to distribute to ADR holders. You need to make arrangements with your nominee if you wish to receive such documents and to be able to exercise your vote through the depositary bank at general meetings (if applicable).
Shareholding structure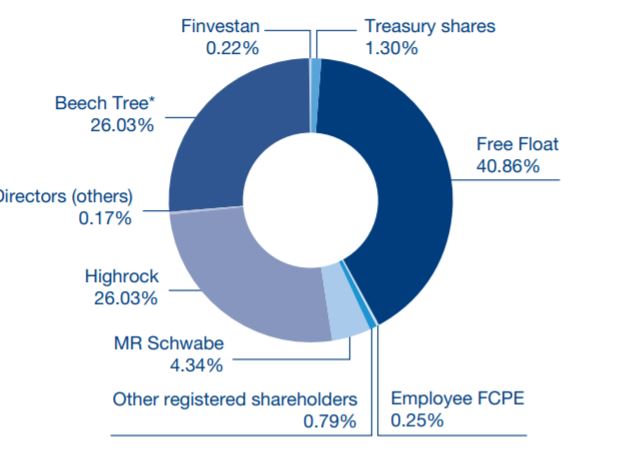 Analyst coverage

Research & Development pipeline
Ipsen R&D has a valuable pipeline encompassing both lifecycle management of our well-established products, and the development of innovative new molecules.
Learn more
Financial objectives and outlook
Our top-line sales growth and bottom-line performance in 2020 were better than they have ever been – and our pipeline is stronger than ever.
2021 financial objectives
The Group has set the following financial targets for the current year, assuming a progressive recovery from COVID-19 by H2 2021:
Group sales growth year-on-year greater than 4.0% at constant currency1, with an expected negative 3.0% impact of currency based on the level of exchange rates at the end of January 2021;
Core Operating margin greater than 30.0% of the sales, excluding any potential impact of incremental investments from external innovation.
This guidance assumes a phased launch of lanreotide generic in Europe by mid-2021 and a limited impact in case of a potential launch of octreotide or lanreotide generics in the U.S.
The 25th of March 2020, Ipsen provided an update related to the impact of the Covid-19 pandemic on its global business which is affected in varying degrees in the countries impacted by the coronavirus, with very different and evolving situations from one country to another.
Since the start of the health crisis, Ipsen has taken the necessary measures to ensure the safety of its employees around the world and to focus on business continuity so that it can provide patients with access to its medicines. As part of these preventive measures, and in line with local health authorities' guidance, Ipsen has instituted a global travel ban as well as home office policies where appropriate. Ipsen has also paused in-person interactions with healthcare professionals in several markets where its field-based employees are working from home using technology to interact virtually with healthcare professionals (HCPs).
Ipsen sees a limited financial impact today given its resilient product portfolio comprised mostly of diversified treatments with highly-differentiating and long-acting formulations for critical chronic conditions. However, given the general economic slowdown, its performance year-to-date in China, reduced interactions with healthcare professionals and the uncertainty about the duration and scale of the health crisis, Ipsen has decided to suspend its 2020 financial guidance announced in February as it is not possible at this stage to quantify its impact on the Group's financial statements. Further updates will be provided as the situation evolves.
Mid-term financial outlook and capital allocation strategy
Ipsen provides its financial outlook for the period 2020-20241:
Group Net Sales CAGR2 between +2% and +5%3,assuming potential additional indications
Commitment to invest in R&D supported by SG&A efficiencies

Lower SG&A as a percentage of net sales driven by further focus and optimization
Higher R&D as a percentage of net sales driven by external innovation strategy
External innovation is Ipsen's number one priority for capital allocation. In support of its external innovation strategy, Ipsen expects to generate by 2024 a cumulative €3bn4 of firepower for pipeline expansion, excluding the sale of any assets.
1 Ipsen is on track to deliver its previous 2022 financial targets and is committed now to a new 2024 financial outlook
2 Compound Annual Growth Rate
3 At constant exchange rates and scope
4 Based on Net Debt remaining below 2.0x EBITDA