Contact us
Craig Marks
Vice President, Investor Relations
+44 7584 349 193
Ipsen in Brief
Ipsen in Brief 2022
Discover Ipsen in two pages; our products and key figures, our objectives and our strategy.
Download
Registration document
2021 Universal Registration Document
This registration document contains forward-looking statements about Ipsen's targets and forecasts, including the Annual Financial Report. The registration document provides a comprehensive information about the Company its activities, financial information, colleagues and legal information
Download
Stock information
Share price and stock information, benchmark, orders, transactions: discover the data related to Ipsen shares.
Ipsen shares
ADR program
Ipsen has a sponsored Level I American Depositary Receipt (ADR) program in the United States in June 2010 with the trust company Deutsche Bank Americas (Deutsche Bank).
Ticker: IPSEY
Structure: Sponsored ADR Level
Exchange: OTC
Ratio (ORD:ADR): 1:4
ISIN ADR: US4626291060
ORD ISIN: FR0010259150
COORDINATES OF ADR HOLDERS: Deutsche Bank Shareholder Services
Operations Center
6201 15th Avenue
Brooklyn, NY 11219
United States
Email: DB@astfinancial.comNuméro
Toll Free: +1 (866) 706-0509
Direct Dial: +1 (718) 921-8137
The Company's ADR program is sponsored by Deutsche Bank. As custodian bank, Deutsche Bank performs the following roles for ADR holders:
Registers and maintains the register of ADR holders
Is the share transfer agent
Distributes dividends in U.S. dollars (if applicable)
Facilitates the proxy voting process and votes on behalf of ADR holders (if applicable)
Issues and cancels the Issues and cancels Ipsen ADSs (American Depository Shares)
May distribute company circulars and annual general meeting materials (if applicable)
For holders who are not registered because their shares are held through a "street name" (nominee account), the Company may issue a proxy to the holder of the ADS. name), your nominee will receive materials from Deutsche Bank from time to time for distribution to ADR holders. You should make arrangements with your nominee if you wish to receive these materials and be able to vote through the custodian bank at general meetings (if applicable).
Shareholding structure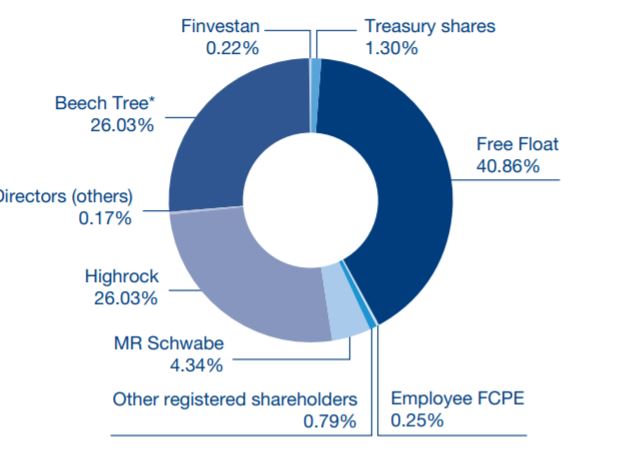 Analyst coverage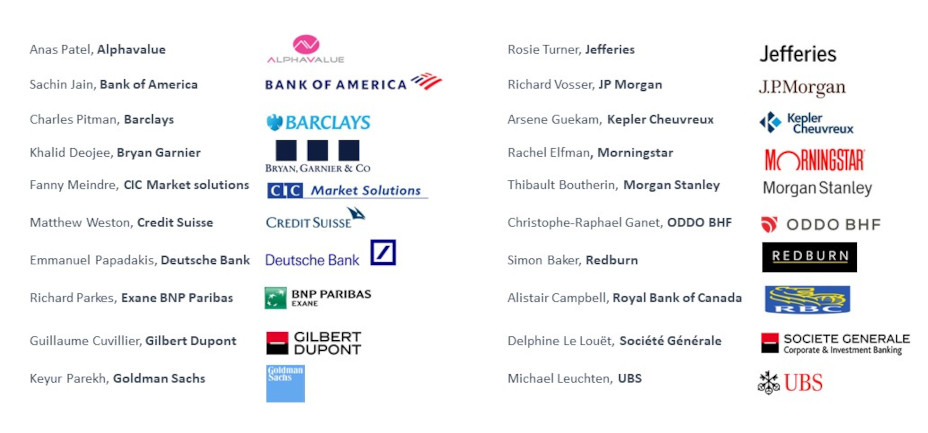 Research & Development pipeline
Ipsen R&D has a valuable pipeline encompassing both lifecycle management of our well-established products, and the development of innovative new molecules.
Learn more
Financial objectives
Full-year 2023 guidance
Ipsen has set the following financial guidance for FY 2023, assuming the completion of the planned acquisition of Albireo, expected to close in the first quarter of the year:
Total-sales growth greater than 4.0%, at constant currency. Based on the average level of exchange rates in January 2023, an anticipated adverse impact on total sales of around 2% from currencies
Core operating margin around 30% of total sales, excluding any potential impact of incremental investments from future external-innovation transactions
Ipsen intends to provide a mid-term outlook before the end of 2023, following the anticipated completion of the acquisition of Albireo1, as well as a number of pipeline milestones.
1. The acquisition of Albireo, anticipated to close in Q1 2023, is subject to the satisfaction of customary deal closing conditions.