Stock information
Share price and stock information, benchmark, orders, transactions: find out Ipsen share-related data.
Ipsen shares
Listed on: segment A of Euronext Paris
ISIN code: FR 0010259150
Mnemonic: IPN
FTSE classification: 486 – pharmaceuticals
Sectorial classification ICB: 4577 – pharmaceuticals
Nominal value: 1 euro
First trading day: December 7, 2005
ADR program
Ipsen established a sponsored level I American Depository Receipt (ADR) program in the United States in June 2010 with Deutsche Bank trust company Americas (Deutsche Bank).
Ticker: IPSEY
Structure: Sponsored Level I ADR
Exchange: OTC
Ratio (ORD:ADR): 1:4
ADR ISIN: US4626291060
ORD ISIN: FR0010259150
CONTACT DETAILS FOR ADR HOLDERS:
Deutsche Bank Shareholder Services
American Stock Transfer & Trust Company
Peck Slip Station
P.O. Box 2050
New York, NY 10272-2050
Email: DB@amstock.com
Toll-free number: +1 (866) 706-0509
Direct Dial: +1 (718) 921-8137
The Company's ADR program is sponsored by Deutsche Bank. As the depository bank Deutsche Bank performs the following roles for ADR holders:
Records and maintains the register of ADR holders
Is the stock transfer agent
Distributes dividends in U.S. dollars (if applicable)
Facilitates the proxy voting process and exercises the voting rights on behalf of ADR holders (if applicable)
Issues and cancels Ipsen ADSs (American Depository Shares)
Can distribute company circulars and Annual General Meeting documentation (if applicable)
For those holders who are not registered because their shares are held through a 'Street name' (nominee account), your nominee will receive company documents from time to time from Deutsche Bank to distribute to ADR holders. You need to make arrangements with your nominee if you wish to receive such documents and to be able to exercise your vote through the depositary bank at general meetings (if applicable).
Shareholding structure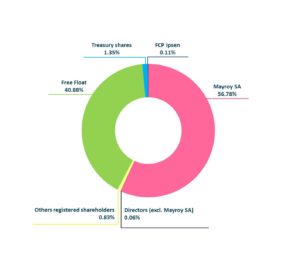 Analyst coverage
| | |
| --- | --- |
| Bank of America Merrill Lynch | Sachin Jain |
| | Emily Field |
| | Klara Fernandez |
| | Eric Le Berrigaud |
| | Matthew Weston |
| | Luisa Hector |
| | Guillaume Cuvillier |
| |  Diana Na |
| | Peter Welford |
| | Richard Vosser |
| | Pierre Vaurice |
| | Vincent Meunier |
| | Christophe-Raphaël Ganet |
| | Christophe Dombu |
| | Delphine Le Louet |
| | Jack Scannell |
Research & Development pipeline
Ipsen R&D has a valuable pipeline encompassing both lifecycle management of our well-established products, and the development of innovative new molecules.
Learn more
Financial objectives and outlook
Our top-line sales growth and bottom-line performance in 2018 were better than they have ever been – and our pipeline is stronger than ever.
2019 financial objectives
2019 Financial guidance
 The Group has set the following financial targets for 2019:
Group sales growth year-on-year at constant currency greater than +13.0%; based on the current level of exchange rates, sales growth at current rates would be positively impacted by around 1.0%.
Core operating margin around 31.0% of net sales, excluding incremental investments in pipeline expansion initiatives.
2022 Financial outlook
Ipsen provides its 2022 financial outlook to reflect the strong momentum of its Specialty Care business and the impact from the acquisition of Clementia closed in April 2019:
Group Net Sales around €3.2 billion[3]
Core Operating margin greater than 32.0% of net sales
This outlook includes only the existing commercial portfolio of products under current approved indications and assumes the approval and launch of palovarotene in FOP indications[4] only. It assumes the earliest possible entry of somatostatin analog (SSA) generics based on market intelligence. It does not include the potential short-term, low single-digit Core Operating margin dilution of business development transactions to further accelerate building an innovative and sustainable pipeline.
2018 - a record year for Ipsen
In 2018, Group sales grew by 20.1%, driven by Oncology which was up 30%.
In 2018, we saw double-digit growth in Europe and growth of almost 38% in North America.
Our Core Operating Income showed a 31% increase and our Core operating margin was 29.7% of sales, up 3.3 points.
Specialty Care sales growth was nearly 25%, reflecting strong performance across all major products and geographies.