Upholding ethical standards for patients and society
At Ipsen, we pride ourselves on our commitment to integrity, transparency and upholding the highest ethical standards. A fundamental pillar of our Generation Ipsen – For Positive Change initiative, we are fostering responsible management while cultivating a strong ethical culture that permeates every level of our organization. Our dedication to governance excellence ensures we always act with the best interests of patients, partners and society at heart.
Our approach to Governance is based on three core principles: 
Doing what is right. Not what is easy. 

 

Guided by our Strategy or Focus, Together for Patients & Society. 

 

Success delivered through responsible management.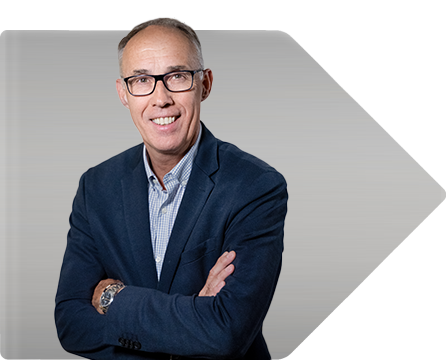 Our governance approach emphasizes integrity and responsibility, prioritizing what's right over what's easy. Through our dedication to collaboration and ethical management, we consistently fulfill our promise to enhance lives with innovative healthcare solutions.
Strengthening Business Ethics at Ipsen
Discover our commitment to responsible business practices, as we work to cultivate an ethical culture anchored in anti-corruption measures and transparency.

ISO 37001 anti-corruption certification
We are committed to fighting corruption and continuously enhancing our anti-corruption infrastructure. Demonstrating our dedication in this regard, we renewed our ISO 37001 certification in July 2022.

Global whistleblowing policy
Implemented since 2018, our Global Whistleblowing Policy encourages employees to report potential non-compliant or unethical behaviors, fostering a speak-up culture and promoting transparency and accountability.

Employee ethical culture measurement
Our workforce exudes a strong ethical foundation. One way in which we measure the strength of our ethical culture is through annual employee surveys. In 2021, 90% of respondents reported considering compliance or ethical factors in their decision-making.

Reporting concerns
At Ipsen, we work to fairly address concerns that come to us. If you have an ethics issue, concern or grievance that you would like to report, you can raise your alert through the Whispli designated Alert Platform or use the email address Ipsen.Ethics.Hotline@ipsen.com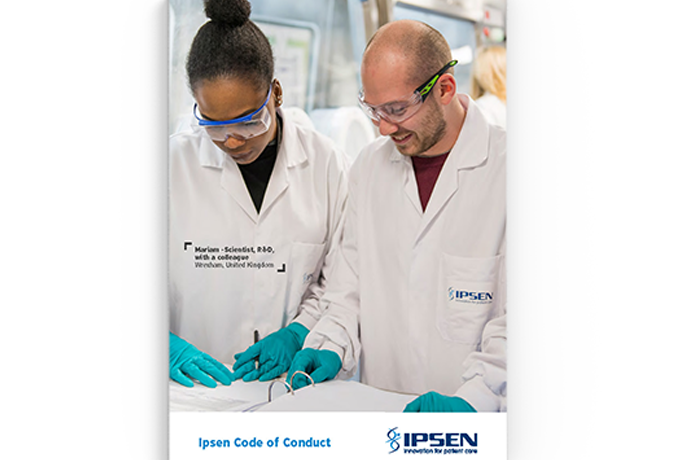 Ipsen's Code of Conduct
Ipsen's Code of Conduct is a dynamic blueprint that emphasizes ethical decision-making, transparency and accountability across our diverse operations. This robust framework fuels an unwavering commitment to revolutionizing patient care, cultivating an empowering corporate culture, and exceeding industry standards and regulations.
Combating corruption with ethics and transparency
At Ipsen, we proudly uphold ethical standards, integrity and transparency in all of our endeavors. Robust anti-corruption policies ensure strict adherence to all applicable national and international legislation, accurate financial recordkeeping, and stakeholder interactions based on integrity and merit.
Fight against corruption is a pledge through our Code of Conduct, as Ipsen rejects any form of corruption that distorts fair trade, hinders economic development, and imposes multiple costs on society at large.
Ipsen's commitment to conducting business with high standards of ethics is reflected through the Anti-Corruption Program, for a positive societal change under the Generation Ipsen. A dedicated cross-function operational committee works on meaningful anti-corruption initiatives and regularly reports to the Executive Leadership Team.
Ipsen has been certified since 2021 to the ISO 37001- International Anti-Corruption Standard for anti-corruption management systems, for the benefit of Patients, Society and Employees.
Ipsen is a dynamic and growing global specialty-driven biopharmaceutical group with a focus on transformative medicines in Oncology, Rare Disease and Neuroscience.
In line with our Company Social Responsibility, we recognize our role as a responsible taxpayer to pay our full share of taxes, including corporate income taxes, as part of our contribution to society.  Thus, Ipsen pays its fair share of taxes in all countries where it operates.
The aim of this document is to provide transparency to ensure a proper understanding of the way Ipsen approaches tax policy matters:
Our compliance
Our tax governance and risk management
Our attitude to tax planning
Our tax risks
Our engagement with Tax Authorities
Our Compliance
The tax affairs are managed in a manner that is consistent within Ipsen's Code for Ethical conduct, to conduct business lawfully and ethically.
Ipsen is committed to observing all applicable laws, rules and regulations in meeting its tax compliance and reporting responsibilities in all jurisdictions where it operates, and to ensuring compliance with all relevant legal disclosure requirements.
Our tax governance and risk management
The fundamental objective of Ipsen's tax governance is to guarantee strict compliance and transparency with the applicable tax regulations and ensure adequate supervision of the tax policy implemented by its subsidiaries in all the territories where it operates.
Ipsen applies diligent professional care and judgement, including ensuring that all decisions are taken at an appropriate level and are supported by consistent processes and guidelines and thorough documentation. The tax function is localized in France, UK and the US. The VP Group Tax department reports to the EVP CFO and our tax professionals are committed to the highest compliance standards in tax laws and regulations.
Our attitude to tax planning
Ipsen's approach is to pay the correct and fair amount of tax to minimise the risk of uncertainty or disputes. Our tax positions are based on reasonable interpretation of applicable law and are aligned with the substance of the economic activity of our business locally.
We are committed to maintain and follow a transfer pricing policy that is based on OECD Transfer Pricing Guidelines notably the arm's length standard and the goals of the OECD/G20 Base Erosion and Profit Shifting project ("BEPS").
Ipsen has a zero-tolerance approach to tax evasion and the facilitation of tax evasion. Ipsen does not undertake aggressive tax planning or artificial tax arrangements. Where available, legitimate tax incentives (for example, R&D tax credits) or exemptions are implemented in the spirit in which they are intended and aligned with our commercial business activities and reputation.
Our tax risks
Ipsen seeks to comply fully with the tax regulations and actively manages its affairs to minimise the risk of non-compliance by ensuring that tax returns and payments are made on time with proper disclosure made to the tax authorities. We strive for full compliance and are continuously improving our processes, which are based on standardization, simplification and automation.
Areas of uncertainty and complexity of current international tax law are managed by the Tax Department and, in addition, we regularly seek advice from independent external tax advisors to minimize our tax risk.
Our engagement with the tax authorities
We seek to operate an honest and transparent relationship with all the tax authorities.
We file timely and accurate tax returns, and we respond openly and promptly to any questions that may be raised in relation to our tax returns. Like any multinational company, our tax returns are continuously under audit around the world. In the event a tax authority disagrees with our views on the appropriate tax treatment of a given item, we will work constructively to try to resolve the issue in a timely manner through appropriate methods of dispute resolution.
Advancing ethical standards with governance actions
Ipsen continuously enhances its Business Ethics Program, backed by a robust infrastructure and governance system. By fostering a culture of ownership, accountability and mindful decision-making, we maintain a strong ethical foundation, as evidenced by positive employee survey results.
Ipsen is committed to ensuring a robust Opportunities and Risks Governance policy, with several strategic and operational committees actively working to identify, assess and address risks and opportunities.
Ipsen recognizes that its third parties play an important role in Ipsen's success and commitments.  Accordingly, we strive to conduct business with organizations who share Ipsen's commitment to ethical culture and operate in a socially and environmentally responsible manner.
The Ipsen Business Partner Code of Conduct  documents principles and expectations for establishing and maintaining a business relationship with our third parties.
Ipsen complies with international and national laws, regulations and codes that prohibit any form of corruption and avoids doing business with entities and/or individuals that are subject to official trade and economic sanctions. Following a risk-based approach, our Global Third Party Program ensures that we work with trusted and reputable third parties, that reasonably operate in a socially and environmentally responsible manner.
Ipsen also implemented a Supplier Risk Management process using a unified digital platform and engaging cross-functional risk experts to ensure potential suppliers meet our standards. This approach streamlines assessments and strengthens risk management throughout our organization.
Ipsen is committed to high financial compliance standards and has implemented a No PO No Pay approach for a wide majority of spend. This means third parties must have a valid purchase order before starting work and submitting an invoice for payment. Based on the country the third parties will be delivering services or goods to, the purchase order terms and conditions may slightly differ. Please click below for the applicable Purchase Order Terms & Conditions. Purchase Order Terms and Conditions 
At Ipsen, we care about protecting the personal data of all our stakeholders. We ensure that we only use personal data as necessary, that our use of that data is lawful and fair, that we keep data secure, and that we inform individuals about how we use their data. We manage privacy compliance at Ipsen through policies, procedures and training, and by fostering a strong culture of respect for privacy.
We are committed to fostering transparency and trust in all of our collaborations with healthcare professionals (HCPs) and healthcare organizations (HCOs). By openly disclosing information on transfers of value, clinical trials, scientific publications and interest representation activities, we ensure integrity and promote a strong ethical foundation across our interactions.
Transparency rules and reports
Please follow the links to the countries to find the information about local Transparency rules and reports:
Bulgaria
No transfer of value in 2018, 2019, 2021, 2022
2020 EFPIA report in euro: Bulgarian
Methodological note: English
Croatia
2017 EFPIA report in euro: English
2017 EFPIA report in kuna: English
No transfer of value in 2018, 2019, 2020, 2021, 2022
Methodological note: English
Cyprus 
No Transfer of value in 2018, 2020, 2021, 2022
2019 EFPIA report in euro: English
Estonia
Greece
Hungary
Iceland
No Transfer of value in 2018, 2019, 2020, 2021, 2022
Lithuania
Luxemburg
2018 EFPIA report in euro: English
2019 EFPIA report in euro: English
No Transfer of value in 2020
2021 EFPIA report in euro: English
2022 EFPIA report in euro: English
Methodological note: English
Malta
No Transfer of value in 2018, 2019, 2020, 2021, 2022
Methodological note: English
Romania
Serbia
No Transfer of value in 2018, 2019
2021 EFPIA report in euro: English
2022 EFPIA report in euro: English
Methodological note: English
Slovakia
2022 EFPIA report in euro: Slovak
Methodological note: Slovak
Patient Support Program report for 2022 in euro: English
Slovenia
No transfer of value in 2018, 2019, 2020
2021 EFPIA report: English
2022 EFPIA report: English
Methodological note: English
Ukraine
United Kingdom 
Ipsen actively collaborates with patient organizations to better understand and support patients' needs. Emphasizing transparency, we publicly disclose financial and non-financial support provided to these organizations in adherence to the EFPIA Code.
Based on our dedication to transparency and under the EFPIA Patient Organizations Code, we make a list of patient organizations to which we provide financial support (grants, sponsorships, donations, etc. etc..) or significant non-financial support publicly available for viewing.
Motivated by our strategic commitment to society as a whole, we seek out opportunities to make an impact. In 2022, in response to the war in Ukraine, Ipsen donated €1.5 million to two organizations helping those impacted: disaster-relief organization Tulipe and the International Red Cross in France.
Ipsen is committed to transparency in clinical studies, providing readily accessible information on clinical trials to patients, healthcare professionals and researchers. We publicly disclose protocol summaries and trial results, adhering to global industry standards, and share anonymized clinical study data with qualified researchers through the data-sharing platform, Vivli.
Protocol Summary Disclosure
Protocol summaries of Ipsen sponsored clinical trials are made publicly available on the US Clinical Trials Registry (ClinicalTrials.gov) and on the EU Clinical Trials Register (www.clinicaltrialsregister.eu) at initiation of the clinical trial.
For Post-Authorization Safety Studies (PASS) and Post-Authorization Efficacy Studies (PAES) that are outside the scope of Directive 2001/20/EC, protocol summaries are posted in the EU electronic Register of Post-Authorization Studies (EU PAS Register) at initiation of the clinical trial.
We also provide clinical trial information to other national clinical trial registries or databases according to local requirements/legislation.
Disclosure of Clinical Trial Results
ClinicalTrials.gov

The results of Ipsen clinical trials are publicly posted to the results database after completion or termination of a clinical trial. Clinical trial results are usually available within 12 months of the trial completion or termination date. Results of clinical trials that are subject to FDAAA 801 legislation have been posted on ClinicalTrials.gov since June 2009. Since January 2014, Ipsen posts results from all Ipsen sponsored interventional clinical trials in patients.
EU Clinical Trials Register

From 21st July 2015, results summaries of Ipsen sponsored interventional clinical trials in patients conducted in the EU/EEA that completed from 21st July 2013 are available on the EU Clinical Trials Register. Results of interventional clinical trials are published one year after completion. From 21st July 2016, it is expected that all trials that started since May 2004 and completed before 21st July 2013 will also be made available here.
Sharing Clinical Trial Data with Qualified Researchers
Ipsen is committed to sharing anonymized clinical study data from completed Phase II to IV studies for products and indications approved in the United States and/or in the European Union, with a first patient included as of 1 Jan 2005 onwards. Ipsen is pleased to be member of the data sharing platform www.vivli.org. Available studies are listed on this platform. Ipsen will regularly update this list to add eligible studies. Any requests should be submitted to www.vivli.org for assessment by an independent scientific review board. Anonymized data will be provided to qualified researchers through Vivli's platform upon approval of the research proposal and signature of a Data Use/Sharing Agreement.
Additional details on Ipsen data sharing policy are available here.
Ipsen does not have internal animal research facilities. Although Ipsen outsources its animal testing, it has put in place an Animal Welfare governance body ensuring the appropriate treatment of animals. We are signatories of Gircor's "French Charter for Transparency on the Use of Animals for Scientific and Regulatory Purposes," and actively pursue the 3Rs: reduction, refinement and replacement of animal experimentation.
Patients and society are at the core of Ipsen's mission to improve lives and health outcomes. Biological and medical research are critical to continuously increasing scientific knowledge and improving human health. While animal studies continue to play an important role in the medical research process and in the development of treatments improving the quality of life of millions of people, it is our priority to meet the highest possible standards of animal welfare. That's why we are among the signatories of the "French Charter for Transparency on the Use of Animals for Scientific and Regulatory Purposes" developed by the GIRCOR.
Ipsen's Cell-Based Assay is now fully implemented for its DYSPORT® products supplied to the U.S., Canada, E.U. and Switzerland.
Ipsen's vision is to be a leading global biopharmaceutical company focused on innovation and Specialty Care and our mission is to improve patients' lives through innovative new medicines
Ipsen commits to enable Early Access to patients to Ipsen Products which are not yet approved by local Health Authorities, hence not yet available for prescription, when the Ipsen Product is considered as eligible for Early Access.
What is "Early Access":
Ipsen defines "Early Access"1 as access to:
Unapproved medicine for the requested indication in the country where the request comes from
For life-threatening or serious medical conditions
Where there is no satisfactory alternative therapy available for the given medical condition
Where there is no alternative option for the patient to participate in an ongoing clinical trial in the given indication
Where the medicine has reasonable medical evidence of the positive balance of benefits/risks in the given indication and the medicinal product has started the regulatory process of approval in the US and/or the EU
Early Access can only take place if it is allowed within the local laws, rules and regulations or specifically approved in writing by local authorities.
The physician and the patient should discuss the expected benefits, known and potential unknown risks before seeking Early Access to a medicinal product.
In some cases, Ipsen may set up a program designed to provide Early Access to several patients in defined countries.
The list of Ipsen's Early Access Programs in the United States is available on www.clinicaltrials.gov.
Request for Early Access to an Ipsen Product:
Who can request Early Access?
Only qualified Physicians can make requests for Early Access to an Ipsen Product once they have exhausted all other appropriate and available options to treat the medical condition of their patient, including enrollment in a clinical trial.
How can the Physician contact Ipsen and make a request?
Physicians can contact Ipsen and send a request for Early Access to: GlobalMedInfo@ipsen.com
What will happen to the request?
When the request is received by Ipsen, Ipsen will send an acknowledgement of receipt of the request within 48 business hours. The request will be assessed by Ipsen medical affairs fairly, as promptly as possible and after a thorough discussion with the Physician as necessary.
The decision will be based on at least the following criteria:
The conditions for Early Access are met
Patient's individual medical conditions
Ipsen product availability
Regulatory and health system environment where the request has come from (e.g. to make sure a Pharmacovigilance structure is in place)
What will happen if the request is approved? 
If the request for Early Access is approved by Ipsen, the Physician must collect and complete all necessary documents to comply with appropriate rules and regulations – as quickly as possible. Once collected, Ipsen will send the Physician the requested Ipsen Product for Early Access to treat their patient.
The physician must commit to the regulatory obligations including reporting of adverse events during the entirety of the Early Access.
What will happen if the request is not approved?
Ipsen is committed to Early Access but the company cannot guarantee approval and regrets that there are occasions where it is not appropriate for the company to provide Early Access to its medicine or where the request does not fall within the definition of Early Access. In these circumstances we commit to provide a timely response and clear rationale for the decision.
1Other terms commonly used: Compassionate Use, Early Access, Expanded Access Program, Managed Access Program, Patient Access Program, Special Access Program, Scheme Access Program, Temporary Use Authorization and Pre-approval access.