Paris (France), 14 February 2019 – Ipsen (Euronext: IPN; ADR: IPSEY), a global specialty-driven biopharmaceutical group, today announced its financial results for the full year 2018.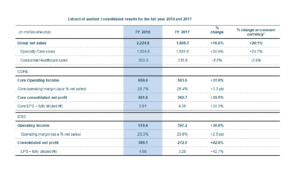 Financial highlights:
▪ Group sales growth of 16.6% as reported and 20.1% at constant exchange rates1, driven by Specialty Care sales growth of 24.7%1, reflecting strong performance across all major products and geographies, and sustained growth of Consumer Healthcare at 2.7%1,2
▪ Core operating margin at 29.7% of net sales, up 3.3 points and Core Operating Income growth of 31.0%
IFRS operating margin at 23.3% of net sales, up 2.5 points and IFRS Operating Income growth of 30.8%
▪ Financial guidance for 2019 of Group sales growth greater than 13.0% at constant exchange rate and Core operating margin around 31.0% of net sales, excluding incremental investments in pipeline expansion initiatives
Q4 2018 pipeline highlights:
▪ On 15 November 2018, approval from the European Commission for Cabometyx® for the treatment of hepatocellular carcinoma (HCC) in adults who have previously been treated with sorafenib
▪ On 5 December 2018, initiation with Exelixis of COSMIC-312, a Phase 3 pivotal trial of Cabometyx® in combination with atezolizumab versus sorafenib in previously untreated advanced hepatocellular carcinoma (HCC)
David Meek, Chief Executive Officer of Ipsen, stated: "2018 was a tremendous year for Ipsen with industry-leading top-line growth and Somatuline® achieving blockbuster status. We also delivered significant margin expansion while investing to advance our R&D pipeline. The momentum of the business is strong as we enter 2019 and are on track to deliver our 2020 financial targets to exceed €2.5 billion in sales and 30% margins, one year earlier.
In 2018, we advanced our pipeline with Cabometyx® approvals in additional indications, acceleration of key programs and the establishment of new collaborations. We remain focused on executing our internal and external innovation strategy to build a robust pipeline, ensure continued growth and optimize value for patients and shareholders. We look forward to another outstanding year of strong industry-leading growth, expanding indications for our current medicines and advancing several innovative new chemical entities in the clinic."
Review of full year 2018 results
Note: Unless stated otherwise, all variations in sales are calculated excluding foreign exchange impacts established by recalculating net sales for the relevant period at the rate used for the previous period.
Group net sales reached €2,224.8 million, up 20.1% year-on-year.
Specialty Care sales reached €1,924.5 million, up 24.7%, driven by the strong growth of Somatuline® and the €257.6 million contribution from the key Oncology launches of Cabometyx® and Onivyde®. Somatuline® growth of 24.4% was driven by continued positive momentum in North America (38.2% growth in the U.S.) and solid performance throughout Europe. Dysport® growth was fueled by strong performance and the resupply in Brazil, strong volume growth in the U.S. in the therapeutics market as well as the good performance of Galderma in the aesthetics market in Europe. Decapeptyl® sales reflect good volume growth across Europe and a good performance in China.
Consumer Healthcare sales reached €300.3 million, up 2.7% year-on-year re-stated from Etiasa new contractual set-up (or down 2.9% as reported), driven by the good performance of Smecta® and the contribution of the products acquired in 2017.
Core Operating Income reached €659.9 million in 2018, compared to €503.6 million in 2017, a growth of 31.0%, driven by the sales growth and after increased commercial investments for Cabometyx® and Onivyde®, and R&D investments to support the development of the growing pipeline.
Core operating margin reached 29.7% of net sales, up 3.3 points compared to 2017.
Core consolidated net profit was €491.6 million in 2018, an increase of 35.5% versus €362.7 million in 2017, driven by higher Core Operating Income and due to lower effective tax rate and net financing costs.
Fully diluted Core earnings per share grew by 35.5% to reach €5.91, compared to €4.36 in 2017.
IFRS Operating income was €519.4 million, up 30.8%  after higher amortization of intangible assets (excluding software) and impairment charges. Operating margin of 23.3% was up 2.5 points compared to 2017.
IFRS Consolidated net profit was €389.1 million versus €272.9 million in 2017, up 42.6%.
IFRS Fully diluted EPS (Earning per share) was €4.68 versus €3.28 in 2017.
Free Cash Flow reached €458.4 million, up by €149.4 million or 48.3%, mainly driven by an improvement in Operating Cash Flow and lower restructuring costs, partially compensated by higher financial income and current income tax.
Closing net debt reached €242.5 million at the end of 2018, an improvement of €220.8 million over the closing net debt in 2017 of €463.3 million. This reflects positive Free Cash Flow generation of the Group which allowed the payment of milestones for Cabometyx® and dividends in June.
Comparison of 2018 performance with financial objectives
The Group exceeded its upgraded guidance provided on 26 July 2018 for Group sales growth and for Core operating margin.
The table below shows the comparison between the financial objectives provided on 26 July 2018 and 2018 actuals.

Dividend for the 2018 financial year proposed for the approval of Ipsen's shareholders
The Ipsen S.A. Board of Directors, which met on 13 February 2019, decided to propose at the Annual Shareholders' meeting on 28 May 2019 the payment of a dividend of €1.00 per share for the 2018 financial year, unchanged from the prior year.
2019 Financial guidance
The Group has set the following financial targets for 2019:
Group sales growth year-on-year at constant currency greater than +13.0%; based on the current level of exchange rates, sales growth at current rates would be positively impacted by around 1.0%.
Core operating margin around 31.0% of net sales, excluding incremental investments in pipeline expansion initiatives.
Conference call
Ipsen will hold a conference call Thursday, 14 February 2019 at 2:30 p.m. (Paris time, GMT+1). Participants should dial in to the call approximately five to ten minutes prior to its start. No reservation is required to participate in the conference call.
Standard International: +44 (0) 2071 928000
France and continental Europe: +33 (0) 1 76 70 07 94
UK: 08-445-718-892
U.S.: 1-6315-107-495
Conference ID: 2989606
A recording will be available for seven days on Ipsen's website. Click here to access the webcast.
—
1 Year-on-year growth excluding foreign exchange impact established by recalculating net sales for the relevant period at the rate used for the previous period.
2 Consumer Healthcare 2018 sales growth up 2.7% restated from the new contractual set-up of Etiasa®, down 2.9% as reported.