Co-creating recipe guides with the kidney cancer patient community to tackle undernutrition during treatment
-

29 August 2023

-

2 mins read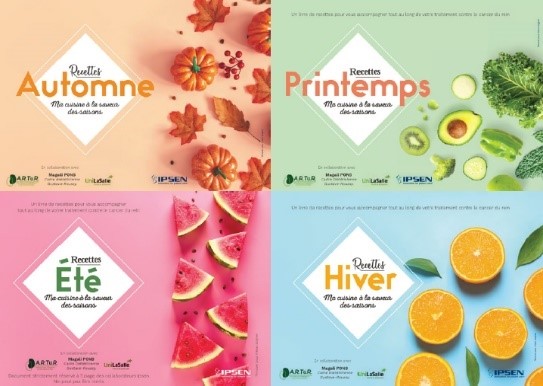 In France, we partnered with patient organization Association pour La Recherche sur les Tumeurs du Rein (A.R.T.u.R) and experts to help people living with kidney cancer overcome undernutrition.
People living with kidney cancer often experience fatigue, loss of appetite, nausea, and various digestive disorders during treatment, which can make it difficult for them to prepare and eat nutritious meals. To address this, we co-created four recipe guides (Autumn, Winter, Spring, and Summer), complete with easy-to-prepare, seasonal recipes, which were distributed to people with kidney cancer and healthcare professionals.
In addition to the recipe guides, more than 100 healthcare professionals were provided with training to help them better identify and support people living with kidney cancer, who may be experiencing undernutrition.
Since the campaign launched, 23,000 recipe guides have been distributed and an overwhelming positive response from the patient community was received:
A caregiver said, "I want the dishes I make to be tasty, but above all, I want them to help the healing process of my husband whom I am caring for. The fact that a pharmaceutical company is supporting me with recipes developed by cancer nutrition experts gives me much more confidence when I am cooking. This support enables me to achieve exactly what I hope for when I cook for my husband; bringing pleasure with food and flavors and helping to fight the disease on a daily basis."
A representative from A.R.T.u.R said, "It's really great to see the finished guide, the PDF we worked on didn't allow us to imagine the final result! It really looks good. Hopefully this will inspire patients."