Reuters Events Pharma 2021: Transforming Medical Affairs to drive patient value
-

12 October 2021

-

2 mins read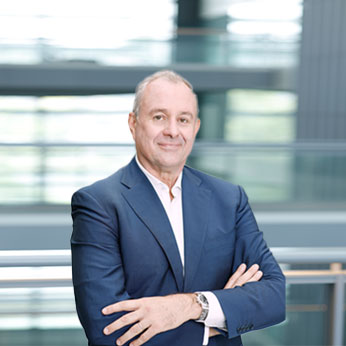 By Steven Hildemann, MD, PhD, EVP, Chiel Medical Officer
Today at Reuters Events Pharma 2021, I was honoured to speak with Izzy Gladstone about best-in-class medical affairs and how the patient- and physician-centric transformation of the medical function can drive patient value for the future.
At Ipsen, we serve patients who find themselves in uncharted waters every day, living with cancer or other conditions with high unmet need in neuroscience or in rare diseases. Developing medicines in these areas is one of the toughest, but most rewarding, undertakings. What eventually becomes available to patients is just the tip of the iceberg. Even fewer medicines go on to become the standard of care for patients worldwide. Still, pushing boundaries to bring measurable improvements to patients' lives is a driving force for all of us at Ipsen.
When I took the helm of the Chief Medical Office of the group, this became the vision and creed of the medical organization. Amidst the COVID-19 pandemic, we embarked on a deep medical transformation to bring about this vision by expanding existing strengths and reinforcing capabilities, skills, and medical excellence. A year on, we have established the medical organization as the third strategic pillar of the group. Externally, we are striving to become a trusted partner of choice for patient organizations, thought leaders, physicians, academia, centres of excellence and industry peers.
Today, Izzy asked me what best-in-class medical affairs stands for. In short, it means understanding and driving patient value. To give you an example, translating the potential of a new treatment into insights help physicians and healthcare systems grasp the benefits to patients. Both our data and independent analyses show that the clinical superiority of a new medicine alone does not guarantee that it would reach the patients who most need it.1 Drawing on about 150 launches in the US, between 2012 and 2017, an analysis from Deloitte shows that more than one third of new medicine launches failed to deliver on their goals in the first year, with over 70 percent of them continuing to do so in subsequent years.1
The medical function sits at the meeting point between patients, physicians, and data-driven insights. This enables us to bridge the gap between scientific evidence and clinical practice, ensuring robust knowledge shapes clinical decision-making and provides patient value during launches and beyond, in partnership with key functions such as R&D, HEOR and market access.
To learn more about on value-driven initiatives, hear what my colleagues have to say at Reuters Events Pharma in the coming days:
October 14th >> Panel: Modernise Medical Affairs: The new skills, roles and capabilities needed for engagement success in the new healthcare environment with Monica De Abadal, Head of Medical, North America
October 19th >> Case study: The battle of digital and virtual fatigue: Make your HCP engagement meaningful with Lukas Falk, Global Enablement & Capabilities Director
October 20th >> Panel: The new benchmarks of great patient engagement with Oleks Gorbenko, Global Patient Centricity Director