Putting yourself in the shoes of someone with an ultra-rare condition: the first FOP immersive experience
-

29 August 2023

-

2 mins read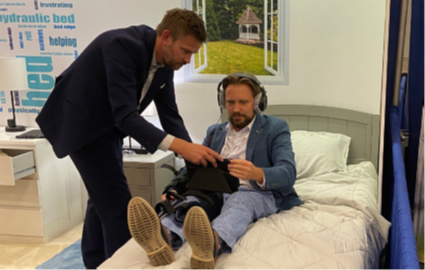 You can never truly understand what it's like to live with an ultra-rare condition unless you've experienced it for yourself. With this in mind, we recently embarked on a project to help healthcare professionals experience what it's like to live with Fibrodysplasia Ossificans Progressiva (FOP).
FOP is an ultra-rare genetic disorder where extra bone formation takes place in soft tissues, including muscles, tendons and ligaments, causing irreversible and progressive loss of mobility, leading to severe disability. To increase awareness of this ultra-rare condition, we designed the first FOP immersive experience, which enabled people visiting Ipsen's medical booth at the American Society for Bone and Mineral Research (ASBMR) annual meeting to experience first-hand some of the physical and emotional challenges that people living with the condition face every day.
The immersive booth experience included two elements:
Participants had to attempt three physical challenges – getting out of bed, eating breakfast, and putting a shoe on – with restricted movement to simulate locked joints, while simultaneously listening to testimonials of people living with FOP describing their daily difficulties.
A mobile app prompted users to take part in other interactive challenges throughout the congress, such as trying to speak with a locked jaw, trying to touch one's face with a locked arm, experiencing pain and flare-ups, suffering anxiety and fatigue. These were accompanied by quotes from people living with FOP.
The reactions and feedback of those who took part in the immersive experience went to show how eye-opening they had found it:
Michelle Davis, IFOPA Director, said, "We work with FOP families and patients, hearing them talking about their experience… but experiencing it first-hand, how difficult it is and how limiting it is, this is the biggest impact."
One healthcare professional who visited the booth said, "FOP is an ultra-rare disease, with an estimated prevalence of 1.4 per million individuals. Those who live with the condition experience bone growth, which occurs outside of the normal skeletal system. Working in rare diseases, I've heard this description and said these words many times, but since taking part in Ipsen's FOP immersive experience they've taken on a new meaning."
Following the success of it at ASBMR, the interactive experience will be brought to future medical congresses and patient organization awareness events.