PBC Awareness Month: The power of patient voices  
-

01 September 2023

-

4 mins read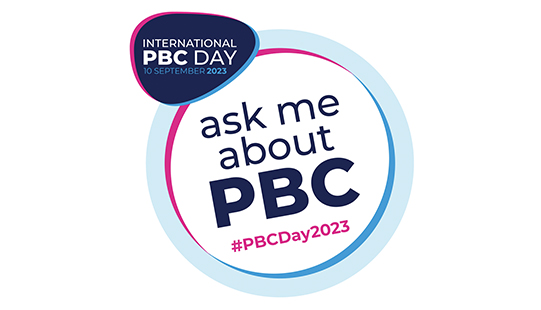 As anyone living with Primary Biliary Cholangitis (PBC) – a rare and progressive autoimmune liver disease1 – knows, the disease can have a significant impact on a person's day to day life and relationships.2
That's why at Ipsen, we are proud to support the PBC Foundation in raising awareness of the condition, recognizing PBC Awareness Month throughout September, including International PBC Day on Sunday 10th September.
This year the PBC Foundation is encouraging people to find out more about PBC, with their call to action: Ask Me About PBC. This campaign aims to inspire people living with PBC to educate about this rare condition and to feel empowered in the process.
Too often PBC is misunderstood and wrongly associated with being a disease associated with alcohol. It is not. The symptoms and their impact on quality of life can be misunderstood and dismissed, making individuals feel isolated.
"I was referred to the hospital and it look another year before I was diagnosed. And that was a really difficult year. Because I had no symptoms, no one was worried about me… and from my point of view, everyone having talked about drinking all the time, I spent that year thinking that whatever this disease was, I had bought it on myself." – Liz.
The Ask Me About PBC campaign wants to get people talking about PBC, as effective diagnosis and management will only come from well-informed discussions and education.
In PBC, chronic inflammation, fibrosis and irreversible scarring of the liver can lead to liver failure, with some patients ending up needing a liver transplant.1,3 It is also a disease that predominantly affects women, with a female to male ratio of 9:1.3
Patients with PBC live with symptoms such as itch and fatigue which can be incredibly debilitating.4 In fact, people living with a severe type of itch have a similar quality of life to people living with Parkinson's disease.5 They may also experience sleep deprivation, depression, and suicidal ideation.4
At Ipsen, we recognize that to help educate the wider public and physicians about how PBC can impact a person's life, patients must be encouraged to share their stories, using their own words.
"Well, describing PBC to some people can be quite difficult, mainly because they've never heard of PBC. And they'd say, cholangitis, what's that? Well, it's to do with the liver. It's an autoimmune disease which affects the function of the liver, and it also affects other parts of the body, whether it be dry eyes, fatigue, aching bones or joints, things like that." – Geoff.
We are immensely grateful to the PBC community for continuing to share their stories with us and we will continue to listen to what they have to say – not just throughout PBC Awareness Month, but every single day.
We do this by working with fantastic patient organizations like the PBC Foundation to listen to patients first hand and gain a deeper understanding of their needs. We share our knowledge and expertise with physicians because it is crucial that they communicate clearly and work closely with people living with PBC, offering holistic support with symptom management that looks beyond just the liver. We also work with medical experts in the rare liver disease space and share our learnings with the media to help raise vital awareness of PBC. All of this is underpinned by our ultimate goal of bringing new treatments to patients.
"My experience is patients appreciate being given the chance to speak… When you listen to someone living with chronic liver disease, PBC in particular, of course they are worried about the consequences of the disease progressing in the future and the future potential that they might need liver transplantation, but they are more worried about how they feel today, tomorrow and next week, and how the feeling of that quality of life is impacting their day to day life." – Professor Gideon Hirschfield, Hepatologist and Professor of Medicine at the University of Toronto.
Hear more insights from Professor Hirschfield on advancing PBC management, here.
For more information about the PBC Foundation and the Ask Me About PBC campaign, visit https://www.pbcfoundation.org.uk
References
Younossi ZM, et al. 2019. Diagnosis and Management of Primary Biliary Cholangitis. Am J Gastroenterol. 114(1):48–63.
Selmi C, et al. 2007. Quality of life and everyday activities in patients with primary biliary cirrhosis. Hepatology. 46(6), pp.1836-1843.
Galoosian A, et al. 2020. Clinical updates in primary biliary cholangitis: trends, epidemiology, diagnostics, and new therapeutic approaches. J Clin Transl Hepatol, 8(1), pp. 49-60.
Gungabissoon U, et al. 2022. Disease burden of primary biliary cholangitis and associated pruritus based on a cross-sectional US claims analysis. BMJ Open Gastroenterol. 9(1), p.e000857.
Smith H, et al. 2022. More than just an itch: impact of cholestatic pruritus in primary biliary cholangitis (PBC) on health-related quality of life (HRQoL). J Hepatol. 77(Supplement 1):S327-S328.