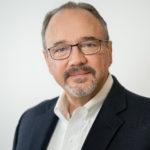 Rare diseases are exactly that, rare. And with any rare disease comes a unique set of challenges faced by patients, their families, and physicians, as the rarity of these diseases can mean patients are often not seen by physicians who have expertise in their specific disease, resulting in significant challenges in diagnosis and treatment.
This is especially evident in fibrodysplasia ossificans progressiva (FOP), an ultra-rare and severely disabling genetic disorder in which muscle and connective tissues are gradually replaced by bone.1 FOP is one of the rarest human diseases, with only around 1,000 described cases worldwide, however it is estimated that there could be approximately one in 1.36 million people affected worldwide.2,3
Increasing awareness and supporting the ability to diagnose patients accurately and rapidly are key   goals in FOP, and I'm so pleased that here at Ipsen we're supporting the International FOP Awareness Day, on 23 April 2020.
Diagnosis is the first step in advancing treatment for patients with FOP, allowing their disease to be managed at the earliest possible stage and preventing unnecessary, traumatic and invasive procedures or treatments that may be prescribed due to misdiagnosis. This is especially important in FOP as bone formation can occur following these misguided interventions such as injections or biopsies. Because of the rarity of FOP, few doctors will encounter this disease, or even be taught about it during their medical training, with common misdiagnoses including cancer, fibromatosis and dysplasia.4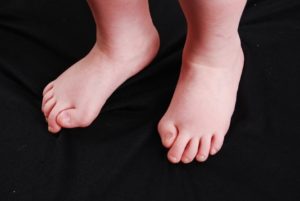 This year, we're supporting IFOPA in their #FunFeet4FOP campaign – sharing photos and videos of our colleagues around the world with their fun feet to draw attention to one of the most common early indicators of FOP – bilateral malformed big toes. People with FOP often present with 'funny toes' at birth, as seen in the image, where the big toes are short, bent and can curve inwards.5 However, this classical sign of the disease is often not recognized, due to the rarity of FOP and a general lack of awareness around the disease. Other key symptoms of FOP include swellings which can look like tumors, and often as these swellings diminish, a new piece of bone is left behind which can lead to locking of joints and reduced mobility.5
Even with the unusual circumstances around the world at the moment, we're determined to add our voice to the voice of IFOPA and local patient organizations around the world to raise awareness of FOP and its symptoms this FOP Awareness Day. Plus, while you are at home is a great time for you to boost awareness and participate in #FunFeet4FOP – share your funny feet on social media and visit IFOPA's website here to learn more about FOP and how you can support those living with this rare disease.
References
The Medical Management of Fibrodysplasia Ossificans Progressiva: Current Treatment Considerations, IFOPA. Accessed: April 2020. Available: http://fundacionfop.org.ar/wp-content/uploads/2019/05/GUIDELINES-May-2019.pdf
Lilijesthrom M & Bogard B. FOP Drug Development Forum. Boston, MA; 2016.
Baujat et al. Orphanet Journal of Rare Diseases (2017) 12:123.
International Fibrodysplasia Ossificans Progressive Association (IFOPA). Misdiagnosis. Accessed: April 2020. Available: https://www.ifopa.org/misdiagnosis
International Fibrodysplasia Ossificans Progressiva Association (IFOPA). FOP Symptoms. Accessed: April 2020. Available: https://www.ifopa.org/symptoms