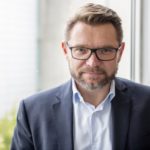 November has become synonymous with Movember, the annual global movement driven by the charity of the same name which encourages men around the world grow a mustache, to raise awareness and funds for men's health issues such as prostate cancer. Throughout November, and especially today, on International Men's Day, we're supporting the cause – recognizing the 9.9 million men living with or beyond prostate cancer – and encouraging our colleagues to grow a mustache.[1]
Given the scale and profile of this successful awareness initiative, it's worth noting that it all started 16 years ago with two young men in Melbourne, Australia who decided that the mustache deserved a revival and persuaded 30 friends to grow a 'Mo' for charity. Now, with over five million people supporting the campaign, this event funds numerous research projects in prostate and testicular cancers and is testament to the power of collective effort.
The success of Movember really struck a chord, as it is exactly that dedication, tenacity and collaboration that is needed to move the dial and improve outcomes for many patients with unmet needs. Ipsen entered the field of oncology in 1986, and today we have a portfolio including that treatments for prostate cancer, neuroendocrine tumors (NETs) and cancers of the bladder, kidney, pancreas and breast.
We're making strides in our own research programs for niche cancers with high unmet need, and our collaborative work with partners is catalyzing and broadening our efforts to fast-track new approaches for patients with significant unmet needs. For men's health, this is seen in our partnership with Debiopharm which was established in the 1980s and renewed earlier this year, to ensure we can continue to offer its benefits in the treatment of patients with locally advanced metastatic and non-metastatic prostate cancer.
The Movember Foundation aims to reduce the number of men dying prematurely by 25% and halve the number of men dying from prostate cancer by 2030. We applaud their vision and ambition and will endeavor to be part of the solution by working with partners to expedite new treatment approaches, so no patient is left behind.
Learn more about Movember here and Ipsen's work in oncology here.