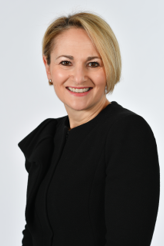 Ivana Magovčević-Liebisch Ph.D., J.D. Executive Vice-President, Chief Business Officer
It has just been a year since I joined Ipsen and I'm thrilled to have experienced the courageous, entrepreneurial mindset which Ipsen has adopted in everything it does. We're driven to deliver impactful treatments to improve patients' lives and to live up to our goal of leaving no patient behind. That's the bold promise we've made to ourselves.
Our Global External Innovation and Partnering (GEIP) team is excited to help realize this by bringing in external innovations to expand our pipeline through business development transactions. Since the beginning of 2018, we've completed five deals and our team is actively working to add to that number with a focus on therapeutic areas where our strengths lie — Oncology, Neuroscience and Rare Diseases.
Today, I'm participating in the inaugural HealthTech Investor Days (HTID) conference in Paris and I'm looking forward to connecting with other like-minded industry leaders to raise awareness of Ipsen's patient-centric external innovation strategy. The innovations created in the EU are integral to our global growth strategy. It gives me great pleasure to have the opportunity at HTID 2019 to showcase our ability to effectively identify, evaluate and transact on external opportunities to successfully integrate into the Ipsen ecosystem to create value for patients and Ipsen.
I am delighted to say that we are transforming the way treatments are researched, developed and brought to market. We have had great success with our external innovation strategy and will continue to push this exciting approach, harnessing our strengths in drug development and global commercialization, and working with strategic partners to deliver first- and/or best-in-class medicines to patients around the world.
At Ipsen, we believe that patients can't wait. That's what inspires every one of us – whether we work in R&D, commercial, manufacturing or business development. For the GEIP team, this means we will continue to seek out partners who are driven to bring innovative solutions to patients with high unmet medical needs.