Stephanie Brown
Senior Vice President and Business Unit Head, Rare Disease – North America
Stephanie Brown joined Ipsen in June 2019 in the newly created role of Senior Vice President and Business Unit Head, Rare Disease – North America. In this role, she will drive strategy and execution across the Rare Disease franchise, including expansion of Ipsen's industry-leading capabilities in patient services.
Before joining Ipsen, Stephanie was Vice President and US Head of Novartis' Neuroscience Franchise. Prior to Novartis, she was Senior Vice President, US Head Specialty Business Unit at Takeda Pharmaceuticals US, where she built specialty capabilities in support of the Inflammatory Bowel Disease business. In these roles, she has served on multiple global and US executive governance committees.
Stephanie spent the beginning of her career at Merck, Genentech and Biogen where she held a variety of leadership roles, with direct P&L accountability for businesses in the US, Canada and globally.  She has successfully commercialized highly specialized biologics and small molecules across multiple therapeutic areas including in Rare Disease.
Stephanie earned a B.S. in Chemistry with Biology from Mount Allison University, New Brunswick, Canada, and an MBA from Heriot Watt University, Edinburgh, Scotland.
Our mission?
To improve patients' lives
Acting on this mission has propelled us to become a global biopharmaceutical leader with a focus on innovation and specialty care. We help patients through our expertise in oncology, neuroscience, and rare diseases.
Find out more about us or see other members of our leadership team.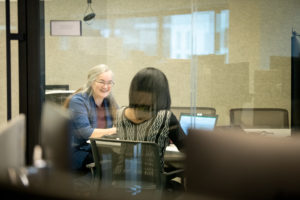 Products and partnerships
Partnering
Access our development and commercialization teams. We take bold steps to translate your science and innovations into solutions that make a difference for patients in need.
See more on partnering
Products and partnerships