Promoting a culture of ethics and compliance
Ethical and compliant practices are a cornerstone of our work at Ipsen. We strive to integrate essential ethical concepts into our business, and to mobilise our teams around our vision of Ethics.
Our Code of Ethical Conduct is built on six main pillars: equity, transparency, dedication to health, integrity, compliance and speaking up.
These exacting standards guide all our work from research and development through to marketing, and ensure our patients remain our central focus.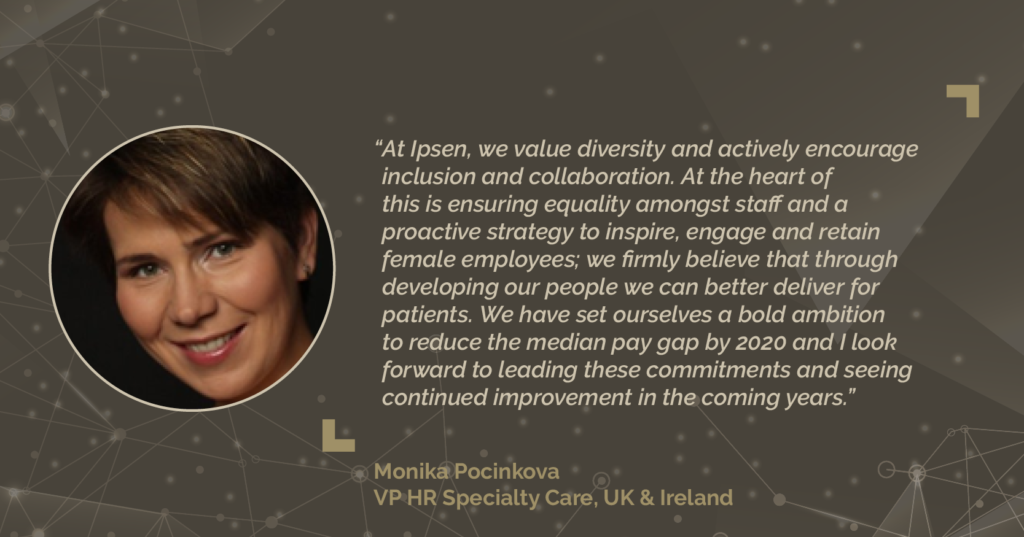 Gender Pay Gap Report
Ipsen UK's Gender Pay Gap Report includes our commitment to achieving a median pay gap of +/-2% across Ipsen UK by 2020.
Ipsen UK tax strategy and governance statement
FOR THE FINANCIAL YEAR ENDING 31 DECEMBER 2019
Ipsen UK comprises the UK subsidiary companies of the Ipsen SA group ("the Group"), based in France, namely Ipsen Biopharm Limited, Ipsen Limited, Ipsen Bioinnovation Limited, Ipsen Developments Limited and Sterix Limited. In making this tax strategy available, Ipsen UK is fulfilling its responsibilities under paragraph 16(2) of Schedule 19 FA2016 for the year ended 31 December 2019.
The tax affairs of Ipsen UK are managed in a manner that is consistent with the Group's policy, to conduct business lawfully and ethically. The Ipsen SA group's Code for Ethical conduct requires the maintenance of accurate and reliable financial records, and the tax approach aligns to that code.
How we manage tax risk
The tax affairs of Ipsen UK are managed in accordance with the Ipsen Group's Internal control and Tax Management Policies. The UK Head of Tax has overall control and responsibility for the UK tax position and reports directly to the Group's Vice President of Tax, who in turn reports directly to the Ipsen Group CFO.
Tax issues and risks are closely monitored at both UK level and Group level, and an annual report on the management of the Group's tax affairs, including any UK issues arising, is prepared for the Group's Audit Committee. In addition, external tax advisers provide specific tax advice and regular updates regarding upcoming changes to UK tax legislation to enable the UK companies to anticipate and plan for any potential impact on the tax risks.
Our attitude to tax planning
Ipsen UK's approach is to pay the correct amount of tax and minimise the risk of uncertainty or disputes. Where available, legitimate tax incentives (for example, R&D tax credits) or exemptions provided by HMRC are implemented to support the development of the UK businesses and any tax planning is based on commercial business activity. Transactions between group companies are on an arm's-length basis and in accordance with OECD principles. Ipsen UK does not engage in artificial tax arrangements.
Our tax risks
Ipsen UK seeks to comply fully with the UK tax regulations and actively manages its affairs to minimise the risk of non-compliance by ensuring that tax returns and payments are made on time with proper disclosure made to the tax authorities. For areas of uncertainty, Ipsen UK will seek specific tax advice from external tax advisers or will seek clearance from HMRC, where necessary.
Our relationship with the tax authorities
Ipsen UK works with the support of its tax advisers to ensure that all compliance obligations are met and the correct amount of tax paid. Aligned to the Code for Ethical Conduct, we seek to operate an honest and transparent relationship with HMRC, providing the necessary disclosure required to allow HMRC to understand the operations and tax risk profile of Ipsen UK.
UK Modern Slavery Act statement
Ipsen is committed to putting effective systems and controls in place to safeguard against any form of modern slavery taking place within the Ipsen business, or our supply chain.
This statement is made in accordance with section 54 of the Modern Slavery Act 2015, on behalf of the Ipsen companies operating and carrying on business within the UK ("Ipsen UK"). It sets out the steps that Ipsen UK has taken and is continuing to take to ensure that modern slavery or human trafficking is not taking place within our business or supply chain.
Introduction
Ipsen is a global specialty-driven biopharmaceutical group focused on innovation and Specialty Care. It develops and commercializes innovative medicines in three key therapeutic areas – Oncology, Neuroscience and Rare Diseases. At Ipsen the patient is at the heart of what we do. We continuously invest to innovate and deliver therapeutic solutions for the patient's benefit. We also adhere to the highest ethical standards to ensure that our decisions are made in the best interests of patients.
Ipsen UK consists of the following Ipsen companies operating and carrying on business within the UK:
Ipsen Limited
Ipsen Biopharm Limited
Ipsen Bioinnovation Limited
Ipsen Developments Limited
Sterix Limited
Ipsen UK is integrated into a global supply chain involved in the manufacturing of pharmaceutical products through a global network of manufacturing sites and distribution centres. This network includes the procurement of goods and services from many external suppliers, contractors and alliance partners.
Our policies
Ipsen is committed to conducting business in an ethical way. We adhere to several internal policies and programmes to ensure that we are conducting business in an ethical and transparent manner. All UK and Ireland policies are available to our employees on the company intranet, these include:
Code of Ethical Conduct
Our Code of Ethical Conduct and Ethics and Compliance Guiding Principles describe our commitment to treating people with respect and in accordance with the law. This code is detailed further We strive to maintain the highest standards of employee conduct and ethical behavior when operating abroad.
Business Partner Code of Conduct
Our Business Partner Code of Conduct explains the way we behave as an organisation and how we expect our employees and suppliers to act. This code details our approach to avoid enforced labour including child labour, and to ensure respect for people.
Recruitment
Our robust recruitment process, including conducting detailed checks on our employees to make sure they are eligible to work in the UK. This helps to safeguard against human trafficking or individuals being forced to work against their will.
Whistleblowing Hotline
Our Whistleblowing Hotline allows employees to report any malpractice or violation of the Ethical Code of Conduct without fear of recrimination. We fully investigate any reports and take appropriate remedial action where required.
Anti-Corruption Programme
Our anti-corruption programme includes training, education and an alerts system for raising concerns – which we assess and investigate as appropriate.
Employee Assistance Programme
Our employee assistance programme operates through a third-party provider which allows employees and their families access to confidential advice on a range of topics.
Employee Policies
We have a range of employment policies including Dignity and Respect at Work, Equal Opportunities that explain how we will treat people with respect as well as provide a mechanism (grievance policy) to challenge inappropriate behavior or a breach of any of our policies. These policies are regularly reviewed and updated to make sure they continue to be fit for purpose and aligned to any legislative changes.
Ipsen's Ethics and Compliance Programme
The objective of Ipsen's Ethics & Compliance Programme is to ensure a culture of integrity, enabling Ipsen to conduct its global business with the highest ethical standards, in full compliance with all applicable laws, regulations and Ipsen's Code of Conduct. Underlying Ipsen's Ethics and Compliance Programme are our Ethics and Compliance Guiding principles:
Patient focus: The underlying rationale for all interactions must be the ultimate contribution to the well-being and care of the patients.
Integrity: All interactions must be conducted in a truthful and trustworthy manner with business integrity.
Independence: All stakeholder's must feel respect and independence to perform their official professional duties. Ipsen must not interact with external stakeholders when there is an actual, perceived or potential conflict of interest arising from such interaction which may unduly influence the stakeholder's decision or conduct or create the perception of doing so. Ipsen must remain independent to conduct its global business.
Legitimate intent: All interactions must have a legitimate intent aligned with the Ipsen vision to discover, develop and deliver innovative medicines that improve patient's lives.
Transparency: All interactions must be transparent with business integrity.
Accountability: Ipsen employees must be accountable and accept responsibility for their actions and commit to perform all interactions in compliance with Ipsen ethical standards, internal procedural documents, all applicable laws, regulations and industry codes.
Information Exchange: Information provided by Ipsen must be accurate, objective, balanced and appropriate to the context and the stakeholders. Ipsen does not partake in any deceptive practices.
Ipsen UK employees
As part of our Recruitment Policy we conduct background checks upon employment to comply with regulations on work permits, visas and the right to work in the UK legally. This also involves a screening process, background checks and confirmation of qualifications.
Suppliers
As part of the Ethics and Compliance Programme, we operate an independently managed, risk-based approach to interactions with third party suppliers. This includes due diligence, background checks and investigations into adverse media. Where risk is identified we look further into the supplier to establish what compliance practices they have adopted including their code of ethics, how they deal with concerns that are raised, and human rights and labour laws. Where required, we provide training and education on our compliance and anti-corruption requirements. Due diligence also identifies sanctions against individuals associated with the supplier.
In addition to the above, as part of our standard agreements with suppliers, we require confirmation that they will carry out services in full compliance with all applicable legislations, regulations and codes of practice.
Our Business Partner Code of Conduct details our approach to avoid enforced labour, including child labour, and to ensure respect for people. It also includes our commitment to the 10 principles of the UN Global Compact, including those related to labour and human rights.
Training
As part of their employment conditions, all Ipsen UK employees must agree to uphold Ipsen's Code of Ethical Conduct. Training is provided as part of on-boarding and throughout employment on topics relating to Ethics and Compliance, as well as applicable legislation.
We also review regularly and improve our Ethics and Compliance Programme to ensure it remains current with respect to significant risks, developments and trends.
Conclusion
Modern slavery encompasses slavery, servitude, human trafficking and forced labour. Ipsen UK has a zero-tolerance approach to any form of modern slavery. We are committed to acting ethically and with integrity and transparency in all business dealings and to putting effective systems and controls in place to safeguard against any form of modern slavery taking place within the business, by our partners or in our supply chain.
Catherine Lamb
Director and Company Secretary
On behalf of the Ipsen UK Board of Directors
11 June 2020
Audience: General public
ALL-UK-001004
Date of Preparation: December 2019