Ipsen (Euronext: IPN; ADR: IPSEY), a global specialty-driven pharmaceutical group, today reported its sales for the third quarter and first nine months of 2016.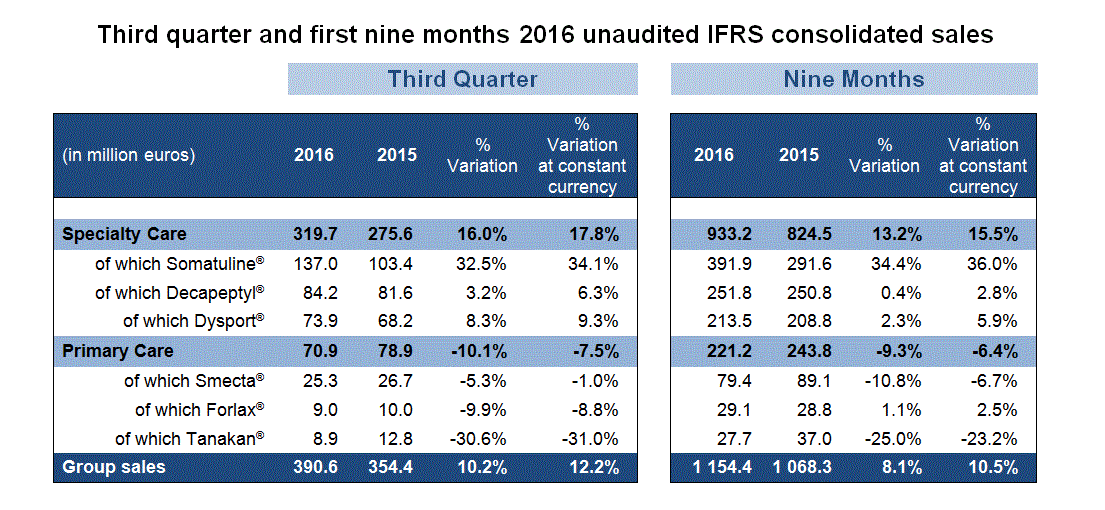 Commenting on the third quarter 2016 performance, David Meek, Chief Executive Officer of Ipsen said: "We are satisfied with the excellent performance achieved in the third quarter. The momentum of the Specialty Care business accelerated in the third quarter, led by the strong global performance of Somatuline® as well as a strong performance of Dysport® in the US and Decapeptyl® in Europe. The Primary Care business is still experiencing challenges in emerging markets and in the third quarter was particularly adversely impacted by a difficult market environment in Russia and Algeria and a slower ramp-up of the new commercial strategy in China."
David Meek added: "We advanced several pipeline programs during the quarter, most notably for our oncology portfolio the Cabometyx® program. The recent approval for the second line treatment of advanced Renal Cell Carcinoma (RCC) in Europe and positive clinical results from the CABOSUN study in first line advanced RCC reinforce our conviction in the potential of Cabometyx®. We are fully committed to the launch of Cabometyx® in the first European countries in the coming weeks."
Third quarter 2016 sales highlights
Note: Unless stated otherwise, all variations in sales are stated excluding foreign exchange impacts.
Consolidated Group sales grew 12.2% to €390.6 million.
Sales of Specialty Care products reached €319.7 million, up 17.8% year-on-year. The relative weight of Specialty Care continued to increase to reach 81.8% of Group sales, compared to 77.8% the previous year.
Somatuline® sales reached €137.0 million, up 34.1%, year-on-year, driven by the continued strong growth in the United States, and by a good overall performance in Europe, notably in Germany, France, and the UK.
Decapeptyl® sales reached €84.2 million, up 6.3% year-on-year, supported by strong volume growth in Europe.
Dysport® sales reached €73.9 million, up 9.3% year-on-year, led by a solid performance in the United States, notably in aesthetics through the Galderma partnership. This good performance was negatively impacted by volume declines in Brazil due to importation issues and in Russia due to lower demand.
Primary Care product sales totaled €70.9 million, down 7.5% year-on-year, affected by the decline in sales of Tanakan® in Russia, Forlax® in Algeria, and also the tail portfolio in France.
Smecta® sales reached €25.3 million, down 1.0% year-on-year, affected by the sales decrease in China with a slower ramp-up of the new commercial strategy in China, as well as in France and in Italy despite good performance in Russia.
Forlax® sales amounted to €9.0 million, down 8.8% year-on-year, affected by the sales decline in Algeria where import programs have been suspended and despite good volume growth in France.
Tanakan® sales comprised €8.9 million, down 31.0% year-on-year, impacted by continued market challenges in Russia.
2016 objectives revised
Based on the performance of the first nine months of 2016, the Group raises its guidance for Specialty Care sales to greater or equal to 15% growth and revises its guidance for Primary Care sales to a range of -3% to -5%. The guidance for Core Operating margin is raised to around 22%.

1 Year-on-year growth excluding foreign exchange impacts