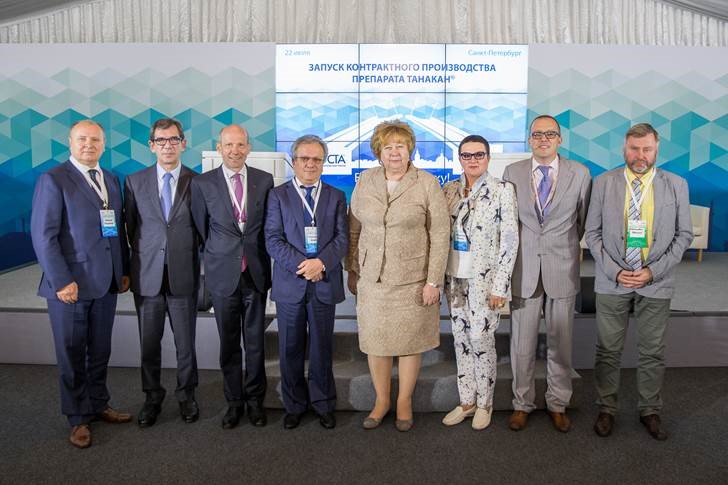 The opening ceremony was held with participation of Olga Kazanskaya, Vice-Governor of Saint Petersburg, Marc de Garidel, Chairman of Board and Chief Executive Officer of Ipsen, David Panikashvili, President of Pharmaceutical Group ROSTA, Marina Veldanova, Head of representative office of Ipsen in Russia, Vladimir Shipkov, Executive Manager of Association of International Pharmaceutical Manufacturers (AIPM), Jean-Maurice Ripert, Ambassador of France in Russia and recognized experts of pharmaceutical sector.
Marc de Garidel, Chairman and CEO of Ipsen, stressed that Russia is a key country for Ipsen from the point of view of future development and opportunities for growth:

We regularly increased the sales in Russia over the last years. However, we needed to expand the business for implementation of the whole set of capabilities. We considered the option to execute a partner agreement with the Russian company, and, as a result, we chose the most efficient way at this stage, having entered into cooperation with ROSTA, which high-tech site we use to launch the manufacturing of our products now.

For David Panikashvili,, President of ROSTA:

Localization of international manufacturing in Russia is a logical and important step on the way of national pharmaceutical industry formation, aimed at increasing of availability of highly efficient and high quality drugs for the people of our country. In addition, it also brings additional jobs for training of the dedicated experts.

The Ambassador of France in Russia, Jean-Maurice Ripert, encouraged the cooperation between the French and Russian companies:

There are few countries, which companies invest and create the manufacturing enterprises in Russia more than the French companies do now, especially in pharmaceutical industry. We are very happy that France was ranked the 4th by foreign investments in Russia upon the results of 2014.

According to the Manager of Russian representative office of Ipsen, Marina Veldanova:

Partnership with ROSTA – one of the leaders of Russian pharmaceutical market, and launch of local manufacturing of the drug is a result of many years of fruitful work and one more proof of high priority of the Russian market for Ipsen.
Ipsen operated in Russia since 1993. More than 300 employees of the company work more than 30 cities of Russia now. Ipsen's portfolio in Russia offers almost all drugs of the company administered in general therapy care and in the field of specialty care.
For further information, please visit : www.ipsen.ru