International Women's Day is a great opportunity to celebrate our extraordinary female colleagues around the world! Their significant contribution continues to make Ipsen shine on the world stage and we wouldn't be where we are today without them.
However, we're doing so much more than celebrating women. We encourage women to pursue ambitious career development opportunities across science & technology, engineering and in the pharmaceutical industry by promoting women's leadership, a better work environment and gender equality in the workplace.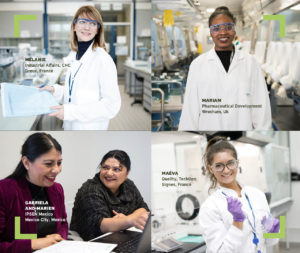 Dominique Laymand, Executive Vice-President,Chief Ethics & Social Responsibility Officer: "At Ipsen, as part of our Social Responsibility Strategy,  we  foster a safe environment for women to be in leadership positions and inspire them to have a bold impact in the field of science & technology."
Some of the initiatives launched in 2018, we're truly proud of and that demonstrate our commitment to women's development in the workplace include:
Introducing in the UK a review of hiring processes and procedures including the removal of salary history from the recruitment process to prevent any bias in gender pay
Ensuring women are increasingly represented in our global leadership programs.
Being an active member of the Boston-based organization WEST (Women in the enterprise of science & technology). WEST is a learning community that provides women in science & technology with inspiration, knowledge and connections to reach their full potential and develop themselves as leaders. We encourage our female colleagues based in Cambridge to join and share with peers.
In November 2018, sponsoring for the first time, the international Simmons Leadership Conference in Dublin. The conference was attended by more than 500 female executives from around the world including 20 Ipsen colleagues. The theme of the conference was Disrupt the Ordinary and centered on the need to change how we think, behave and do business in an era of accelerating innovation.
Regis Mulot, Executive Vice President, Chief Human Resources Officer:
"Gender equality and more broadly diversity and inclusion are key priorities for us at Ipsen. People are at the center of everything we do and we aim to offer equal opportunities to everyone, everywhere in our One Ipsen open and inclusive culture."