The premise is that all children, no matter what their background, have dreams and aspirations. But for hundreds of thousands of children each year, cancer takes this opportunity away from them.
At Ipsen, the Research and Development Team has joined forces to raise awareness of this cause.
DThey have connected with the World Child Cancer organization and committed to raise funds, raise awareness and to give time and expertise to help link them to experts who are exploring innovative methods to cure childhood cancers.
On February 15th, a campaign of communication is launched among all employees to consider how best to support World Child Cancer.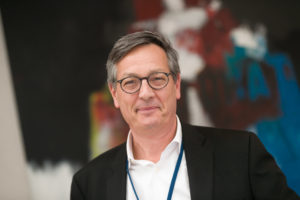 We would like to encourage you to do a fundraiser on your site, or in your community on or around this date. But please don't stop here. Let's put our thinking caps on and see how we can further support this organization.
Alexandre Lebeaut
Executive Vice-President, R&D and Chief Scientific Officer
Ipsen also supports the campaign on social networks #NoMoreBut #AdvanceCures4cancerkids #TransformCare4cancerkids #InstillHope4cancerkids #Giftofgrowingup