Great place to work
A great place to work
On 21st February 2018, Ipsen Dublin was formally recognized as one of the Best Medium-Sized Workplaces in Ireland with an award from the Great Place to Work Institute.
These awards are highly sought after and only given after careful consideration following a Trust Index Employee Survey and a company-wide Culture Audit, revealing a clear majority of favourable employee reports. This recognition reflects the positive and rewarding culture we are so committed to nurturing here at Ipsen.
The awards ceremony was attended by nearly 900 people representing 85 companies from all business sectors. Notably, Ireland's Prime Minister Leo Varadkar T.D. was also in attendance.
Recognition
The award gala event was the culmination of a journey that started in 2015 with the introduction of several new policies in areas such as communication and listening, recognition, well-being, empowerment and accountability.
The culture of a company is inextricably connected to the people within a company, so this really is an award for everyone, and it's safe to say that Ipsen Dublin was immensely proud of their achievement and made sure they celebrated in style (over the course of a few days!).
We are extremely proud to have received this distinction in Dublin (and previously also Brazil), and we are fully committed to focussing efforts on making it a clean sweep of awards across every site in the Ipsen organization in the future.
Wherever we are, however we say hello, the experience of connecting and collaborating just got a lot easier.
Digital Room
Space for co-creation and collaboration
The digital room provides faster, easier and more engaging ways of working, We can now experience effortless interaction with offices anywhere in the world, allowing for more creative global collaborations, saving on expenses AND the world's carbon footpint reducing the need to travel, all supported by a dedicated tech team.
Pimp my conference room: welcome to the future of communication
Bonjour, Hello, G'day, Hola', How you doin'?, WOTCHA… However we introduce ourselves, in a global enterprise such as ours, we need seamless lines of communication to do it with maximum efficiency and effectiveness. Our medicines are used in over 115 countries around the world and we have over 5,400 active working partnerships, collaborations and branches in more than 30 countries. We have global goals, and our teams all over the world need to connect without fuss, stress or delay, whenever they need to, wherever they are.
Digital Acceleration for Everyone
Together with DARE, using the very latest high-tech software and hardware, we have created an immersive creative space with state-of-the-art video conferencing in our headquarters in Boulogne, France. Teams can now connect with collaborators easily and flawlessly, in a truly energizing and engaging way, eradicating boundaries to bring the Ipsen family a little closer together for the benefit of everyone involved.
We are heading on a journey into the future. The digital room features six HD screens linked by Mezzanine tech, an interactive whiteboard and 85-inch touch screen, four wireless microphones and two HD cameras, all set in a comfortable break-out space to allow creativity to flow around the world for the benefit of all.
Women in Science
Inspiring the next generation of women in science
Although the history of opportunity for women has been far from fair over the centuries, women have been a force in the sciences since ancient times. As we spun through the age of Enlightenment into the 20th century, we saw Marie Curie make her mark as the first woman ever to receive a Nobel Prize in 1903. There have been forty women since, which brings us neatly, if rather directly, to the International Women in Engineering Day on 23rd June 2018.
Gender equality
This auspicious day is an international campaign to raise awareness of women in engineering, and the career opportunities available to girls and women in the industry. It is also a celebration of the achievements of female engineers, applied scientists and leaders.
To show our unadulterated support for the campaign and gender equality in general, Ipsen collaborated with the Wrexham STEM (Science, Technology, Engineering, Maths) ambassador team to create a short film, highlighting the role of women in engineering and other sciences in the 21st century.
STEM Ambassadors
The film will be presented by the Wrexham STEM Ambassadors to pupils at local schools in the UK and shared across Ipsen's network, with the aim of promoting diversity within engineering and inspiring the next generation of female engineers at Ipsen and beyond.
Special thanks to Elodie Carpentier, Caroline Delmas, Ingrid Tosello, Valerie Giacobetti and Christine Giraud for their participation.
Bath Road
Re-opening the Bath Road offices
In June, we celebrated the re-opening and refurbishment of our Bath Road office in Slough, United Kingdom, with a weekend of collaborations and what turned out to be some extremely fruitful and inspiring events.
All-day Hackathon
We kicked off with an all-day hackathon, starring an impressive selection of clinicians, nurses and patient groups. The mission was to hack out a solution to improve the journey of a UK clinical trial patient. It was a big success, with five digital solutions proposed that went straight off for review by a global Ipsen team to see if one of them could be brought to market.
Innovation Race, a global innovation initiative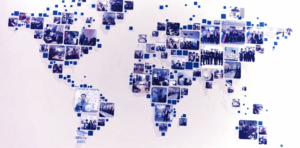 Demonstrating its dedication and commitment to improving patients' lives around the world, the Consumer HealthCare division launched an unprecedented initiative to develop an innovative and sustainable portfolio.
More than 1,000 Ipsen colleagues worldwide participated in a digital brainstorm. The purpose of the brainstorm was to encourage participants at different levels and across various functions of the business to submit ideas on new products to meet patients and consumers' needs and expectations. More than four thousand ideas were submitted and then screened according to the latest consumer trends. These ideas were translated into tangible concepts with clear benefits and reasons to believe. Following this, the best concepts were tested with 1,500 consumers across China, Russia and France.